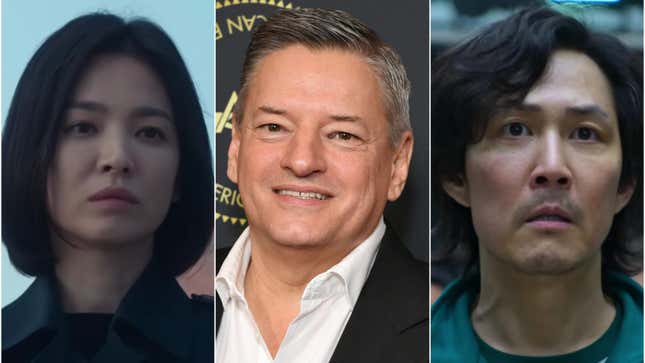 The Writers Guild of America is poised to go on strike, but if you stay tuned to Netflix, you might never notice. Co-CEO Ted Sarandos expressed his confidence that the streamer will be able to serve its subscribers in the event of a work stoppage, and his confidence will only be bolstered by the decision to invest some serious cash in South Korean content over the next four years.
Netflix plans to make you freeloaders finally cough up the dough
Sarandos announced that the company expects to spend $2.5 billion on South Korean series, double the amount that it's spent since launching in that country in 2016, according to Deadline. He shared this news during a meeting with South Korean President Yoon Suk Yeol in Washington, D.C. on Monday. "We were able to make this decision because we have great confidence that the Korean creative industry will continue to tell great stories," Sarandos said (via Deadline). "We were also inspired by the President's love and strong support for the Korean entertainment industry and fuelling the Korean wave."
K-Dramas have definitely made waves on the platform, with shows like Squid Game and The Glory reportedly reaching huge international audiences. "It is incredible that the love towards Korean shows has led to a wider interest in Korea, thanks to the Korean creators' compelling stories. Their stories are now at the heart of the global cultural zeitgeist," Sarandos said. "I have no doubt our investment will strengthen our long-term partnership with Korea and Korea's creative ecosystem."
While the popularity of South Korean content makes this a canny business move regardless, it's of particular interest on the eve of an expected writers' strike in the U.S. Sarandos previously made clear that the streamer has a "large base of upcoming shows and films from around the world, so we can probably serve our members better than most."
Studios turning their attention abroad is a typical maneuver when a strike is on the horizon. Louise Pedersen, CEO of All3Media International, recently observed that "A lot of American buyers were planning for [the strike] and talking about shows as potential acquisitions" at French television festival SeriesMania in March (per The Hollywood Reporter). "I suspect they're doing research behind the scenes for backup lists [should the strike happen]," he shared.
Suffice it to say, Netflix's tapping into the Korean market—whether to acquire and distribute old shows that already have plenty of seasons or to invest in new ones—is one way to soften the effects of a strike. As such, strategies on both sides will likely look different than they did during the 2007 strike, given that the work stoppage, in that case, had more immediate results, especially on television. The way forward will become more clear (or, depending on how you look at it, less clear) when the current WGA contract expires on May 1.