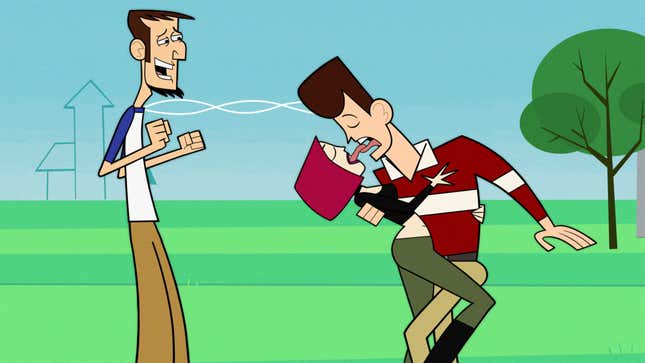 You know how it is with teenagers, and also sax-loving supervillain principals: Give it enough time, and eventually you're going to see some nipples, or some tongues.
If Jesse Armstrong wanted Jeremy Strong to jump in a river, he would have put it in the script
Thus is the lesson gleaned from the first images from HBO Max's long-in-the-works Clone High revival, which makes it clear that (most of) our favorite clones of famous historical leaders are back, and also making out with each other a bunch. We also got a loose release window for the revival of the cult series (which originally ran for a single season, from 2002 to 2003, on MTV), with the show set to premiere on the streamer this spring.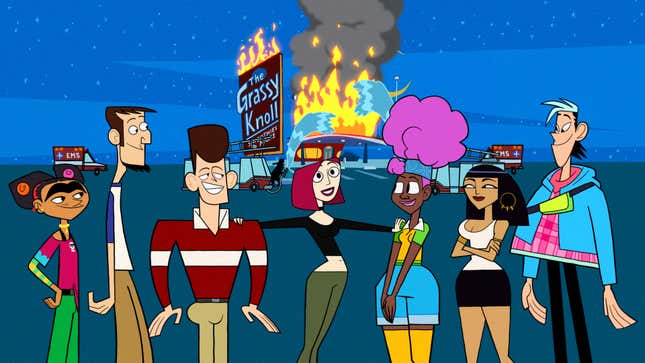 Buried slightly deeper in the press release is the news that the show is updating its casting (presumably, at least in part, so that white actors are no longer voicing people of color), most notably by having Three Busy Debras star Mitra Jouhari take over the role of Cleopatra from Christa Miller. (Miller's still in the cast; according to the press release, she'll be playing a character named "Candide Sampson.) Meanwhile, both Michael McDonald and his character, a party boy incarnation of Mahatma Gandhi who was one of the original show's main leads, are absent from both the images and the casting notices, so we're going to go ahead and assume we won't be seeing much of him in the new version.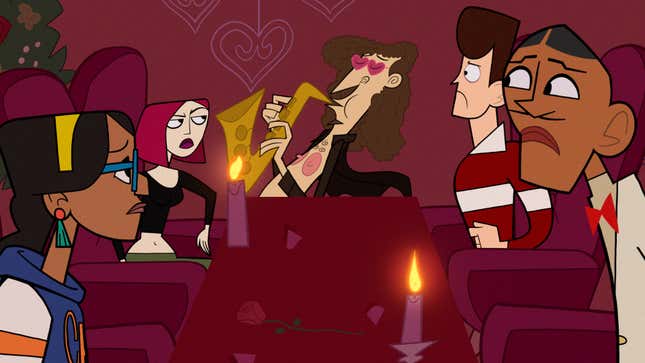 As for new casting: The Bear's Ayo Edibiri is set to play Harriet (Tubman, presumably), Vicci Martinez is Frida Kahlo, Kelvin Yu is Confucius, Jana Schmieding is Sacagawea, and Neil Casey is "Topher Bus," which, from context clues, we're going to assume is a hip re-branding of Christopher Columbus. Will Forte, Nicole Sullivan, and series co-creators Chris Miller and Phil Lord will also reprise their roles as Abraham Lincoln, John Of Arc, JFK, and Principal Scudworth, respectively.