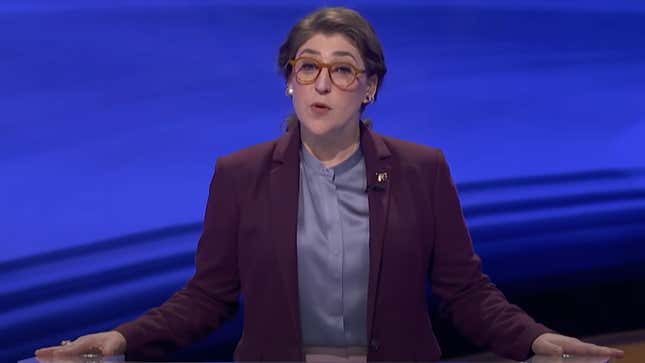 We'll take game shows impacted by the Writers Guild of America strike for 200, please. The answer (not presented in the form of a question, sorry!) is Jeopardy!. The long-running ABC trivia series will experience a little shake-up as regular host Mayim Bialik has reportedly declined her hosting duties for the final week of filming for the 39th season, according to Deadline.
"Jeopardy!" Slammed For Insanely Distasteful Question
Jeopardy! will nevertheless continue with Ken Jennings in the driver's seat. (Bialik and Jennings have split the job since beloved host Alek Trebek died and the ensuing drama with one-time heir apparent Mike Richards.) Per Deadline, these episodes are being filmed at the Sony Pictures lot in Culver City between Tuesday, May 16 and Friday, May 19.
Jeopardy! writers have been marching on the WGA picket line, including Michele Loud, Jim Rhine and Billy Wisse. Speaking with Variety, Loud said, "Our words are on the screen every night. There is no Jeopardy! without writers. Without us it's just an empty blue screen." Though they expressed appreciation for the unusual stability of their year-round gig, the group decried the current state of the industry. "They never tried to make it a gig economy before," Wisse told the outlet. "There was always some sense that writers were partners in it."
Bialik's abstaining from appearing on the iconic quiz show is a significant show of solidarity from the actor who once penned an essay entitled "I'd Give Up My First Child to Host Jeopardy! Forever." This comes after her FOX sitcom Call Me Kat was canceled last week after three seasons. "It's so hard to say goodbye to yesterday," Bialik wrote on social media in wake of the news. "We made a lot of people laugh during COVID in ways that at first seemed impossible. But with this incredible cast—Cheyenne [Jackson], Swoosie [Kurtz], Julian [Gant] and Kyla [Pratt]—and, of course, with the late Leslie Jordan, all things that seemed impossible became possible."