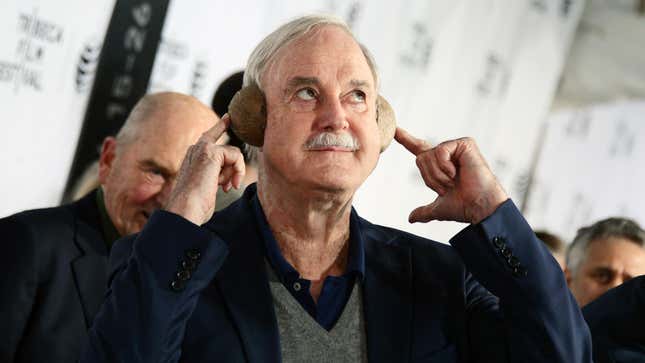 When you've chipped away all of your goodwill by publicly defending transphobes, rallying against non-existent cancel culture, and generally just stepping in it, it's never a bad idea to revive a beloved character from an acclaimed IP. John Cleese seems hip to this information and has announced the revival of his critically acclaimed comedy series, Fawlty Towers.
Cleese will take up his post as series writer and reprise his role as the seaside inn owner Basil Fawlty. His daughter, Camilla Cleese will star opposite her father in the new iteration for the next generation. Together, the two will operate a new hotel. Matthew George, Rob Reiner, Michele Reiner, and Derrick Rossi are all attached to the project as executive producers.
"What I like about Matt is that, unlike many producers, he really 'gets' the creative process," Cleese said in a statement, per IndieWire. "When we first met, he offered an excellent first idea, and then Matt, my daughter Camilla, and I had one of the best creative sessions I can remember. By dessert we had an overall concept so good that, a few days later, it won the approval of Rob and Michele Reiner. Camilla and I look forward enormously to expanding it into a series."
It's unlikely any other original cast members will join the reboot. Cleese's ex-wife Connie Booth (who co-wrote Fawlty Towers) quit acting long ago, Prunella Scales officially retired in 2020, and Andrew Sachs died in 2016.
G/O Media may get a commission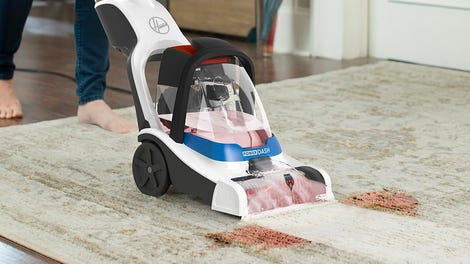 26% Off
Hoover PowerDash Pet Compact Carpet Cleaner
The original Fawlty Towers aired two seasons in 1975 and 1979, with 12 episodes in all. While Cleese had already established himself in the world of British comedy with his work on Monty Python projects, Fawlty Towers added another notch in his belt. Over the last four decades, Fawlty Towers has been touted as some of the best U.K. television has to offer.
"John Cleese is a comedy legend," Reiner says in a statement. "Just the idea of working with him makes me laugh."
"Meeting John and Camilla was one of the great thrills of my life. I'm obsessed with 'Fawlty Towers' and the legendary characters he created," George adds. "I've watched the first two seasons so many times I have lost count. I dreamed of one day being involved in a continuation of the story. Now it's come true."