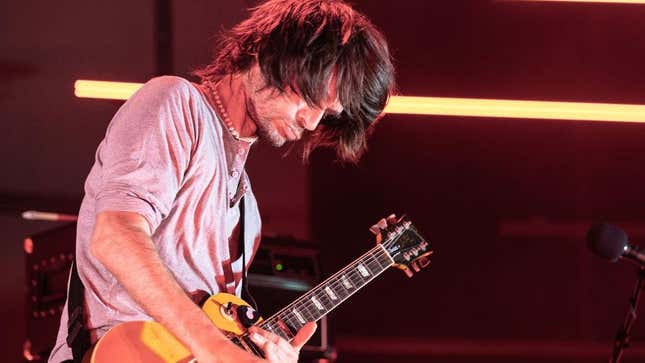 In 2007, Paul Thomas Anderson released There Will Be Blood, the story of a monstrous turn-of-the-century oil tycoon. The film's score was composed by Radiohead and The Smile's Jonny Greenwood, which would mark not only the first of several collaborations with Anderson over the years but also, we must now assume, the inspiration for an oil-based business plan that culminates, today, in the announcement of Greenwood's very own olive oil brand.
"The Consultant" star Nat Wolff on Christoph Waltz, playing music, and almost landing Spider-Man
In a tweet from this morning, the composer and musician announced Greenwood Oil, which is now on sale through Radiohead's W.A.S.T.E store. The product description explains that the extra virgin olive oil comes from Greenwood's farm in Le Marche, Italy, "where Jonny has been living for the last eight years—when not making music." In the tweet, Greenwood acknowledges that "this is what rockstarsofacertainage* seem to drift into doing" and adds a footnote that reads, "It's Sting we're all thinking of."

The website description describes how the olives used to create Greenwood Oil are "harvested by family and friends every year, and pressed locally," and the bottles are only being sold now because "this is the first year that the farm has produced enough oil to share." The bottles are signed by Greenwood and cost £35 for 500 milliliters or £60 for a liter. (That's about $43 and $74 in American dollars and cents.)
The website also suggests using the oil "in the weeks after you first open it," but doesn't provide any suggestions for how to do so. We imagine it would work well if applied to a hot pan before frying up some weird fishes, greasing up any stuck pulk/pull revolving doors, or just enjoyed with baguette after being poured into a moon-shaped pool on one of several spinning plates.

Send Great Job, Internet tips to gji@theonion.com