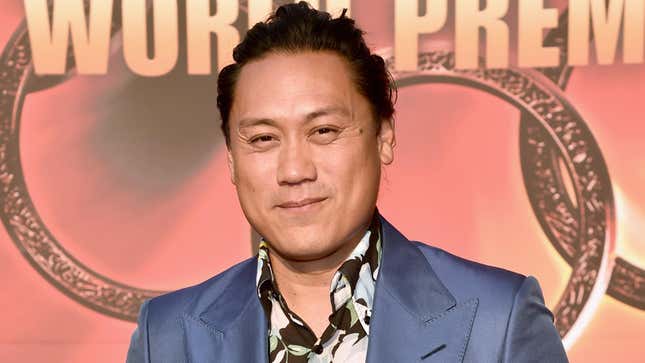 It's a good news/bad news day for Wicked fans who are looking forward to Jon M. Chu's two-part adaptation of the beloved stage musical: The good news is that Chu has released two teaser images from the movies! The bad news is that you can't see them unless you try really hard, because they're very dark and shot from a distance. Call up your local optometrist, because you're going to need more glasses to see these:
"Glass Onion" director Rian Johnson talks Agatha Christie
Alright, we're exaggerating for comedic effect, but these are pretty difficult to draw any sort of conclusions from. That's presumably Cynthia Erivo as Elphaba on the left and Ariana Grande as Glinda on the right, but who knows. That could just be a splash of pink paint on an all black canvas that looks like Ariana Grande, and the other one could be an unrelated green witch that Chu is trying to pass off as a real Wicked witch. This could be an AI image generated from the prompt "Ariana Grande in a dark room."
Perhaps the biggest reveal out of all of this is that Chu's Tweet of the teaser images indicates that it was edited, which is a feature that is only available to Twitter Blue subscribers. The Wizard Of Oz himself is a character who would 100 percent pay for Twitter, so it tracks that the guy directing a movie about Oz would also pay for Twitter, but that doesn't make it any less uncool. (Just delete the tweet and repost it, guy.)
In addition to the aforementioned people you can kind of see in these images, Wicked will star Jonathan Bailey, Jeff Goldblum, Ethan Slater, Michelle Yeoh, and Bowen Yang. Like the musical its based on and the book that the musical was based on, it's a prequel/revisionist retelling of The Wizard Of Oz.