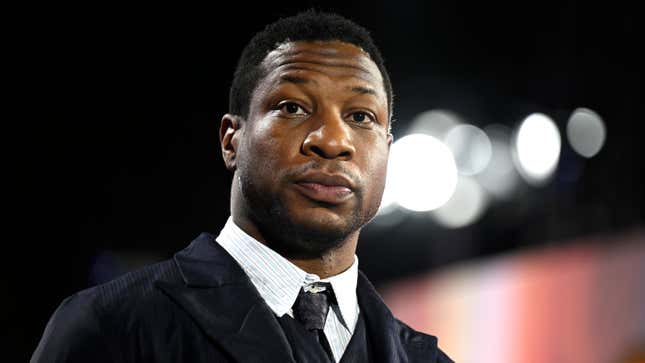 A new video obtained by TMZ suggests that Johnathan Majors is actually a really good person who abhors violence. In fact, Johnathan Majors is a person who stops violence when he conveniently happens to witness it from across the street at a nearby In-N-Out. If Jonathan Majors sees violence happening, he will rush right into frame to keep the peace. That's just the kind of guy he is.
Billy Bush caught being gross on hot mic (again)
Majors, who unrelatedly stands accused of assaulting his ex-girlfriend, threw himself in between two allegedly high-school-aged girls who were physically fighting at Hollywood High School, according to TMZ. The young people in the vicinity can be heard giggling while they film the alarming impromptu fight. One onlooker in the video even appears to be filming on a laptop and a cellphone, an amazingly lucky coincidence given that a Marvel star just happened to arrive on the scene. Majors gently keeps the two unidentified girls apart and is seen "urging them to calm down and telling them it isn't worth it to fight," per TMZ. Behind the camera, a young woman's voice gleefully calls, "Hashtag first high school fighting experience!"
"Unclear where school faculty was during the brawl, but it's a good thing Majors decided to step in," reads TMZ's report. "We're told after the video cut, both girls went their separate ways."
Majors did not go his separate ways with TMZ, as the outlet apparently tracked him down "hours after the fight" to get the full scoop. "Were you just trying to be a helpful guy?" The TMZ cameraperson asks. Majors confirms: "Yeah." No, he didn't know the girls. "It was a school fight and I saw it." Of course, he wanted to make sure nobody got hurt. Hopefully, everyone is okay. What's his message to the girls? "Stay cool."
Cool, indeed. You know what's not cool? Thousands of Twitter users accusing Majors of staging the fight for his own benefit. "His PR" began trending on the platform, as in "His PR team is working overtime," or "His PR team pulling WWE stunts," or "his PR team thinks we were born yesterday." Desus Nice, formerly of Desus & Mero, injected some topical Hollywood humor by joking, "nah he got the same pr team as amptp."
It's just like Twitter to try to twist a moment of selfless heroism and mentorship by a celebrity into some sort of public relations conspiracy. Anyway, in news surely unconnected to this, Majors is due back in court tomorrow, at which time a new date will be set for his criminal trial. There have been multiple delays for the trial, first because the prosecution requested more time ("multiple alleged abuse victims of Majors" are reportedly cooperating with the Manhattan District Attorney's office), and then because the defense claimed "deficiencies" in discovery, per Deadline. Majors could face up to a year in prison if he is convicted of assault.