"That's what's up."
"I'm not an actor, I'm a [rap, philanthropy, probable future repeat SNL hosting] star!"
Going into Chance The Rapper's Saturday Night Live hosting gig (the first of what is probably going to be "as often as he wants"), the only real doubts I had were about why the Chicago entertainer wasn't getting the full Timberlake. Having Eminem as the musical guest wasn't a bad call as it turns out (he got what might be termed "the full Prince"), but Chance has the all-around skills and screen presence to pull double-duty, and this uniformly strong episode's main weakness was keeping Chance off camera for too long.

It's especially confusing since SNL gave the Chicago rapper a tryout of sorts when he was the musical guest last year, slotting Chance into several sketches where his charisma and his ease in front of an audience marked him out for future hosting honors. Still, what we got was choice Chance, from his catchy and silly monologue song about welcoming even the family weirdos at Thanksgiving dinner, to his deliciously hammy turn as the obviously illegitimate son of Kenan Thompson's Steve Harvey in a Family Feud sketch, to a chilly and clueless basketball reporter filling in on the hockey beat, and more. And that's not counting the already-viral musical number we'll get to in a bit. Chance came out for his monologue doing an enthusiastically precise little dance step, and was similarly bursting with talent, energy, and performer's discipline throughout. There's always an undefinable pleasure in realizing that a host is both game and up to the task, and Chance The Rapper can come back any time. He was terrific.

Weekend Update update
Give Saturday Night Live credit. The show has its very spotty history of addressing certain elephants in the room, but Colin Jost led off tonight's Update by going after SNL royalty with admirable bluntness. Including a picture of founding SNL writer, longtime performer, and current U.S. Senator Al Franken for his recently revealed sexual harassment of now radio host Leeann Tweeden in 2006 is one thing. But Jost called Franken out in several follow-up jokes, and didn't so much as nod toward excusing Franken's behavior on the basis either of "it was just a joke" or "it was a long time ago" fronts. Sure, Michael Che went on to ridicule Donald Trump for mocking Franken while ignoring the even uglier allegations against Alabama Republican candidate Roy Moore (or, you know, those against Trump himself). And Alex Moffat's spot-on Franken impression did not make an appearance anywhere on the show. But when your business is mocking shitty behavior, intellectual honesty is necessary currency.
Franken aside, Che and Jost presided over an extended Update with confidence, delivering solid takes, throwing to and interacting with their three guests, and goofing on each other amusingly. (Che's joke about the Republicans' sick joke of a tax plan/scam lumped Jost in with the millionaires set to benefit.) Jost sparred, too, with fellow Staten Islander Pete Davidson—also as relaxed and funny as he's ever been—as Davidson compared the suspiciously different coverage the two receive in the Staten Island press. Maybe it has something to do with Davidson's incessant trashing of his home town, but he also makes the case that the two represent the island's reality (Pete) vs. its aspirations (Colin). Plus, Pete got my biggest laugh of the night when, addressing a columnist's "Sleep with the fishes" reference to Davidson's jokes at S.I.'s expense, he exclaimed incredulously, "That's a death threat! In the newspaper! Who does that? Are you the Zodiac?"
Kate McKinnon returned as her most recent breakout character, the half-opossum Attorney General, Jeff Sessions. It's a funny bit, and McKinnon, here allowed more room to play outside of a proper Sessions sketch, turned in a prankishly funny performance, exaggerating the weaselly little guy's grinning, malicious duplicity with a fiendish twinkle and some precisely silly body language. (She does some great ear work.) Plus, the fact that the chief law enforcement officer in the country is constantly alternating lies under oath with lies about not remembering things he'd have to lie about under oath lends the character a jolt of nasty energy.
G/O Media may get a commission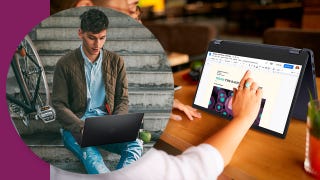 Ends August 15
Best Buy Anniversary Sale 2022
Ends August 15
Best Buy has a number of different promotions happening all for its Anniversary Sales Event. Laptops, tablets, TVs, you names it. Whether you're heading back to school or just trying to fill your home with some new tech, there is something here on sale that you've likely been waiting for.
And anytime Kyle Mooney brings back Bruce Chandling is okay with me. In the spirit of all returning Update characters, there's a formula to Bruce's appearances. He's the worst standup comic ever, but in such an inhabited, uniquely personal way that his beyond-horrible half-jokes hold a strange fascination. And when he invariably fails to maintain his confident "What's the deal?" facade, revealing the soul of the desperately lonely failed little guy inside, it's always, in Mooney's performance, improbably but undeniably affecting. He and Che (paying off comedy club debts by having the never ready for prime time Chandling on TV) make a fine team, with Che's understandable horror at Chandling's lameness crumbling, too, in a generous invitation to Thanksgiving dinner. Like Chance's opening song tonight, Che's gesture reinforces a theme of humanity that kept resurfacing. Chandling sucks (and, as we find out here, is both impotent and illiterate), but he's got somewhere to go, even Che all but guarantees his family an evening of nonsensical catchphrase comedy.
Best/Worst sketch of the night
When Chance was last in 8H, he appeared in a Run-D.M.C.-flavored ode to the last days in office of Barack Obama. Here, he and Kenan Thompson re-teamed, alongside new guy Chris Redd, in the 90s Jodeci-esque R&B slow jam, "Come Back, Barack." Taking the form of a classic "my baby left me" number, the reveal that the three singers are making a crooning, heartfelt plea for Obama to come back lands with a solid laugh, and the meticulously recreated soul vibe of the video (complete with, as Kenan states, a spoken-word mid-song breakdown no one does any more) is punctuated with increasingly desperate calls for rescue from this Trump-ian hellscape. ("I'm sweating through my scarf," exclaims one, without missing a beat.) And the musing lyric where Thompson recognizes that asking the two-term president to somehow run again "would undermine the very institutions we're barely hanging onto as it is" buoys the sure-fire hit with some bite.
Preparing for his hosting stint, Chance has said that he had some help in pitching his own sketch ideas from Donald Glover, and that some of their sketches had been chosen (at least making it as far as dress). I don't know if the Batman sketch was the Chance-Glover collaboration, but that'd be my guess, as the bit both draws on Glover's comic book background and approaches the Gotham City crime issue from a decidedly black community perspective. With Beck Bennett's Bruce Wayne smugly expecting nothing but effusive thanks from the downtrodden citizens lined up to receive his Thanksgiving charity, the billionaire is instead treated to a litany of complaints from Gotham's impoverished minorities about Batman's quick-fisted approach to vigilante justice. It's a welcome outsider perspective on the too-cosy superhero paradigm, with Chance, Jones, Redd, Kenan, and Melissa Villaseñor's citizens all sharing suspiciously similar tales of friends, family, and themselves being hoisted up via grappling line and hung from gargoyles by their underpants. Now, the DC nerd in me knows that the Bat has addressed the issues of crime, racism, and poverty in Gotham's socioeconomic and criminal structures with varying degrees of sophistication, depending on the writer, but it's never a bad time to throw the bat-signal on the fact that a rich white dilettante swooping down from the shadows to beat the shit out of suspected street criminals is not without creepily fascistic undertones. And everyone here sells the simmering resentment of Gotham's underprivileged with pointed wit. ("He crashed a full plane on my street, then walked away," complains Thompson.)
The hockey sketch was a fine showcase for Chance to show off his acting chops, as his completely bewildered black hoops correspondent is pressed into emergency rink duty. The joke that black people aren't really into hockey as a rule isn't a new one, but the joke here really isn't on hockey players' international names. (Alex Moffat's player has the last name "Skjei," which Chance's reporter doesn't even try to pronounce). And it's not really at the expense of the sport, either, as much as it is about the network's blithe ignorance of the fact that not all sports communities cross over interchangeably. And Chance is great, underplaying his game but overmatched reporter's attempts to hang onto his professionalism while tamping down his annoyance at being put into a position (in a very cold arena) where he's being made to look stupid. (He's understandably taken aback that one player has done well despite the fact that "he got into a fistfight in the first minute of the game.")
The "Rap History" film gave Chance, Kenan, and Redd an opportunity to team up again, this time as a long, probably justly-forgotten 1980s rap group, the crack-and-costume-loving Soul Crush Crew. Apart from the fact that the name "DJ Grand Wizard Karate" is a little masterpiece, the premise of the sketch is, again, a little more generous in spirit than expected. Sure, the joke that new white rapper Li'l Doo Doo (Davidson) both sucks and is completely ignorant of all hip-hop before Bow Wow is made, but the fact that the Soul Crush Crew's crack-addled old school music sort of sucked, too, makes the joke more about subverting what seems to be the original premise, which is nice. (Guest cameos Common and Questlove barely remember the SCC, even though they're on hand to complain about the new rappers' ignorance of their forebears.)
If there's a weak sketch, it's probably the classroom visit. Even there, everyone involved is quite good, with students Chance and Mikey Day vainly attempting to whip up enthusiasm for their dads' joint presentation on the ins and outs of their gas station fuel tank installation concern. (It's tough when previous parent and rollercoaster engineer Aidy Bryant gets everyone in class season passes to Six Flags.) Both Day and Chance commit to the bit (plus Day gets a spit take, and Chance gets to strip to his drawers), but the premise is left too hazy to provide the framework necessary for the kids' increasingly inappropriate outbursts. Still, it's hardly a disaster, and Bryant and teacher Cecily Strong's bookending passive-aggressive sniping fills out the edges of the sketch nicely.
"What do you call that act?" "The Californians!"—Recurring sketch report
Family Feud is always better when it has some comic premise beyond allowing cast members to trot out impressions. (Especially since the format doesn't lend itself to anything but the merest snatches of performance.) Here, the concept is that the "family" aspect of the episode means that both host Steve Harvey's actual family and that of his longtime friend (Aidy Bryant) are facing off. Oh, and that Bryant's mustachioed, fashy-dressing son (Chance) is clearly her love child with Harvey. It's a setup for predictable jokes that the sketch doesn't so much avoid as imbue with a good-natured almost-sweetness that's a pleasant surprise. Plus, Chance's impression of Kenan's Harvey is assured and funny, and Harvey's understandably pissed off wife (Leslie Jones) isn't painted as battleaxe or victim so much as—in Jones' eloquent death stares—someone not willing to be cast as either. "Hold up, this ain't no happy ending," states Jones as the sketch ends. And it's not one, entirely, but it's also a well-realized one, and a human one.
I'm never quite sold on the comic logic underlying the sketches where Aidy Bryant's precocious but unworldly young girl fails to realize there are unseemly things going on all around her. (See the ten-to-one slot below.) But Bryant commits to the unfocused bits like only she can.
"It was my understanding there would be no math"—Political comedy report
With Alec Baldwin taking another week off (I'm fine with it), the cold open went to his Trump's progeny, as Mikey Day's Donald Jr. and Alex Moffat's Eric kicked things off by meeting with Wikileaks founder and Trump campaign benefactor Julian Assange. (Played by Kate McKinnon in Assange's "platinum bob and a man's front-wisp" and slippery accent.) The Trump boys have become popular characters in Day and Moffat's hands, and look to only become moreso as Don's increasingly evident participation in that whole "undermining American democracy by colluding with a foreign power" thing comes to light. Here, the sketch begins with a more succinctly comprehensive rundown of the players and allegations in the Trump-Russia scandal than Fox News ever offers, before the quid pro quo transaction of fugitive Assange and slicky-boy Donald is interrupted by Moffat's comically dim Eric.
The joke of Eric Trump being a guileless manchild isn't especially trenchant political comedy, but Moffat is undeniably hilarious in Eric's childlike dependence on his patiently protective brother. (Their relationship is sweet in its own way, as Donald's endearments as he teaches his brother the most basic tasks never come off as anything but genuinely affectionate.) Still, the fact that the real life Trump boys keep blurting out incriminating stuff from their position of douchey privilege informs their characterizations here, and the sketch keeps showing off a tight comic timing, as when Eric's offscreen "I'm scared" car horn signal sees him joining the clandestine meeting, Minions backpack and all.
I am hip to the musics of today
Apart from the fact that Chance wasn't the musical guest as well as the host tonight, Eminem was an interesting pick, and gave an equally interesting performance. Getting one extra-long showcase is the sort of format-breaking generally only extended to the biggest stars. And while Eminem's initial song, "Walk On Water," was an energetically defensive diatribe against those who point out that he's not the cultural (or commercial) force he once was, the rapper made the case that he's still got the chops. Segueing into a medley of early hits "Stan" and "Love The Way You Lie" (with a significant assist from singer Skylar Grey) was an evocative juxtaposition, even as the realization that his performance was going to go on longer than usual pointed up once more how SNL not only didn't have Chance take musical duties, but called on a white (and, sure, incredibly influential) rapper instead.
Most/Least Valuable (Not Ready For Prime Time) Player
Luke Null got a line! Seriously, I am not busting the new guy's chops here. It's one of the toughest jobs to break into, and here's hoping for two lines (or more!) next time.
Kenan gets the top spot tonight. Dude was all over the place, SNL's resident veteran everyman.
"What the hell is that thing?"—The Ten-To-Oneland Report
Aidy Bryant throws herself into a character as well as anyone in recent SNL history, and, playing a young girl blissfully unaware that her teen babysitter is actually a 39-year-old porn star (Heidi Gardner) and that the shorts-sporting pizza guy (Chance) is making a lot of sausage double entendres, she helps lift up another of these sketches. As I said earlier, there's a fuzzy logic to the setup—Bryant is actually being babysat, but she also calls out the fact that they're in a suspiciously porn studio-esque setting with just a leather couch, two plants, and no carpets. And Gardner and Chance are funny as they try to keep up their porny dialogue in the face of Bryant's chipper commentary about why there's a hole through the center of their pizza, and so on, but these sketches always suffer because they're not grounded enough to work one way, nor weird enough to take off into true ten-to-one loopiness.
Stray observations
Chance opens his monologue by talking about his donation of a cool million dollars to Chicago public schools. Cool, indeed. Here's how to help out.

Eric, after Donald assures Assange of their father's loyalty, asks, "What about Chris Christie? And Rudy Giuliani? And mom?"

Cheap joke it may be, but Moffat's silent joy as Eric upon seeing his brother activate the shiny toy he bought at the airport is some tremendous physical comedy.

On of Steve Harvey's relatives is in charge of designing the host's signature suits, and claims to have invented the color "plorange" for his next one.

Jost says we all have a lot to be thankful for this year, "unless you're a human woman." Cue photo montage of people like Harvey Weinstein, Louis CK, Roy Moore, Donald Trump, Bill Cosby, and Al Franken.

Jost, rebutting those excusing Franken's leering groping photo by saying that it was taken before Franken became senator, exclaims, "It was also after he was a sophomore in high school."

Davidson concedes that Staten Island isn't "all heroin and racist cops," but also has "meth and racist firefighters." Expect another article, Pete.