It's no secret that WWE has been dealing with a rash of injuries as of late. Running down the list of sidelined talent also reads like a list of WWE's best talent: Seth Rollins, John Cena, Cesaro, Nikki Bella, Tyson Kidd, Sting, Randy Orton, Daniel Bryan, Paige. That's just naming a few. There are a handful of other Superstars on the DL as well, including Sasha Banks, who has denied the injury rumors but remains absent from TV. For awhile WWE was making the best of the situation, even riding high on the heels of a hot angle where Roman Reigns beat up Vince McMahon and won the WWE World Heavyweight Championship from Sheamus. That high could only last for so long though. If the cracks have been showing for a few weeks now, this week's Raw is the whole foundation crumbling.
It's hard to even know where to start with this week's Raw because it's abysmal. There's almost nothing of value or interest across three hours of programming, and that's not an exaggeration. Let's start with the best (and perhaps only good) segment of the night, and the feud that has had the most momentum going into this Sunday's Royal Rumble: Becky Lynch vs. Charlotte. Tonight, Becky gets a match against Tamina while Charlotte and her father watch from ringside. Because it's a match against Tamina, Becky wins rather handily, as she should. It's a decent match, but it's ultimately in service of the post-match segment, which is compelling, passionate, and invigorating. Becky goes on a babyface tangent, talking about how much she wants to fight Charlotte for the Divas Championship before she rips into Ric Flair, goading him into setting a match at the Royal Rumble. It's a stirring segment because WWE has been patient in telling this story, and because Becky and Charlotte are selling the hell out of the feud. They've found their comfort zone, and it's translating into something truly special, especially when you consider that the other Divas segment of the night is the typical mess of heel/face alignments and allegiances.
If anything, the number of injuries in WWE at the moment should allow the company to dig into its deep roster and give some of the underused talent meaningful TV time. That would not only keep things fresh, but also give that talent a chance to hone their skills on the "flagship show," where they normally don't get a chance to do so. It looked like WWE was embracing that philosophy for a bit. The Social Outcasts premiered as a ragtag band of forgotten lower-mid carders and quickly became a team easy to cheer for, while Kalisto, the gravity-defying, magnetic luchador, won the United States Championship from Alberto Del Rio.
Fast-forward to this week's Raw and almost all of that momentum is gone. Kalisto unceremoniously lost the title to Del Rio on Smackdown, and didn't even get a chance to address it/Del Rio on Raw tonight. Why not let Kalisto, who's good on the mic, cut a great promo about wanting that title back and build him up some more? That's how you invest in the future. Then there's the Social Outcasts, who WWE forgets debuted as underdogs that were fun to cheer for, having Heath Slater wrestle like a heel during his match before his entire faction is demolished by Big Show because WWE is obsessed with making their big men look like threats before the Royal Rumble.
G/O Media may get a commission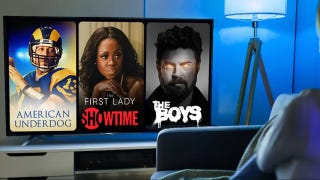 UNDER $1
99¢ Prime Video Channels
At least those two storylines inspired some sort of feeling. At least I had a reaction to them. The rest of the night is the worst version of Raw: listless, forgettable, and downright boring. There's a segment where Vince McMahon can't open plastic balls to reveal the name of Roman Reigns as the #1 entrant in the Rumble, and it goes on forever. There's another match between the Wyatts and the Dudleys, this time with Ryback filling in as the Boyz' partner. The crowd is dead silent during the entire match, and it's hard to blame them. There's also a number of Chris Jericho segments, each one more cringe-worthy than the last. "I wish it was 1999," he tells Stephanie McMahon backstage. Yes, we know, Chris, but the rest of us have moved on and it's time for you to do the same.
There are some scattered fun moments throughout the night. Rusev, who's always reliable on the mic, tells Roman that he's going to win the Rumble because he had to throw kids off the bus in Bulgaria just so he could go to school. New Day hold a memorial service for Francesca. At the end of the night, it's not Brock or Reigns standing tall, but the Wyatts, who come out and take out both men. It's a version of the Wyatts that's consistently compelling, but it's also a version that always fizzles out. WWE has legitimized the Wyatts again and again, only to then have them lose again and again just as they get their momentum back. There's a chance that the Royal Rumble will be fun—in fact, the Rumble match itself should be pretty great, considering how much can happen—but tonight's Raw doesn't instill much confidence in WWE's decision making.
Stray observations
Results: Roman Reigns defeated Rusev; Natalya defeated Brie Bella; The Wyatt Family defeated the Dudley Boyz and Ryback; Big Show defeated Heath Slater; Becky Lynch defeated Tamina; Alberto Del Rio and Sheamus defeated Dean Ambrose and Kalisto; Big E defeated Jey Uso; Neville, Titus O'Neil, Mark Henry, and R-Truth defeated The Ascension, Stardust, and Tyler Breeze.
Shoutout to Steph for making a McMahon Millions joke.
I love pure babyface Becky Lynch so much. That is all.
"You stupid little Canadian." Rusev knows what we're all thinking.

Part of what's making the whole Brock-Reigns thing work is that they have history, and it shows. They're intense dudes who hate each other for a reason.
Remember when Chris Jericho screwed over Roman Reigns and Dean Ambrose against the Wyatt family? Jericho and Reigns sure don't.
I'm so happy that Curtis Axel got to mention his non-elimination from last year's Rumble.
Roman Reigns yelling after a spear is the only version of Reigns we need. Run with that.
When Big E hit the ground after flying through the ropes, I legitimately thought WWE was going to lose another guy to the DL.