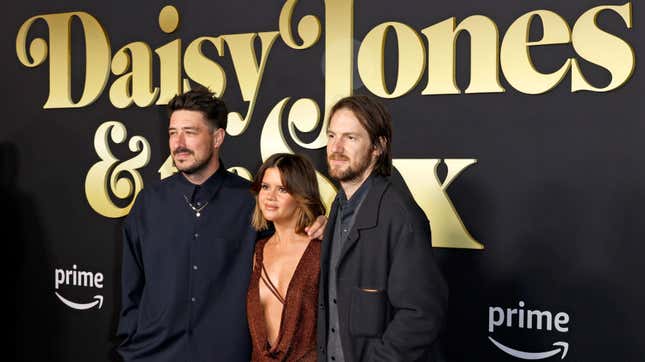 Daisy Jones & The Six has proven to be quite a winning multimedia experience for Prime Video. Upon its release, it was the streamer's number-one series globally, while also holding the number one spot on iTunes with Aurora, the fictional band's album, and re-topping Amazon's Best Sellers list for Taylor Jenkins Reid's original novel. It's the kind of multi-platform appeal that studio executives must dream about, and the masterminds behind the series continue to capitalize.
Not with a tour, though, no matter how much the team teases it. (There remain no live performances of these tracks by the show's cast for fans to enjoy.) No, the latest gimmick is that the fictional band is being covered by some real-life rock stars: Marcus Mumford and Maren Morris. Mumford helped Daisy Jones music producer Blake Mills write the band's biggest song, "Look At Us Now (Honeycomb)," and now he and Morris have released their own version of the track, available exclusively through Amazon Music.
Speaking with Variety, Mumford said he wanted their take to be as "different as we could without losing the essence of the song," making the song more modern as opposed to Riley Keough and Sam Claflin's stylized '70s version. "It's funny, I texted Riley like, 'I think we've destroyed your OG version of this song, sorry!'" He told the outlet. "What was challenging about that is I love the recording they got for the show so much, and I love Sam and Riley's vocal so much, that I was a bit like, 'How do we beat that? I don't think we can even try and compete with it.'"
Certainly, fans have responded positively to the series' version of the songs. According to Billboard, the group topped the Emerging Artists chart as well as the Soundtracks chart (for Aurora) for the week of March 18. Further, the album opened at number 4 on the Americana/Folk Albums and Vinyl Albums charts. In addition to the songs from Aurora, new tracks have been released weekly to accompany specific episodes (songs like The Dunne Brothers' "Flip The Switch" or Simone Jackson's "Last Night Together"). Meanwhile, the show itself is building to its finale—the last two episodes drop on Prime Video on March 24.