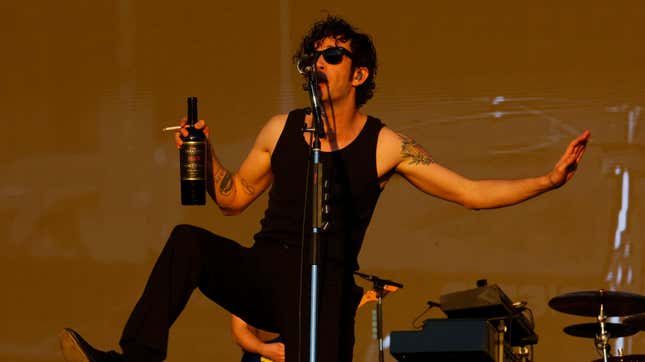 The various romantic speedbumps of Taylor Swift's life can have strange and widespread affects on the world—not least of which because they tend to generate new music that moves quite a bit of money into various people's pockets. But they also, obviously, have a personal dimension, something The 1975's Matty Healy has understandably been faced with after he and Swift broke off a short-lived romance earlier this month.
What Beth Ditto learned from her "Monarch" costar Susan Sarandon
But don't be worried, The 1975 fans: The band's lead singer is doing okay in the aftermath, announcing to a crowd—as reported by Entertainment Tonight—that he's been safely ensconced in the welcoming arms of "my boys" in the aftermath of the break-up.
Specifically, Healy was responding to signs being held up at a recent The 1975 show, which assured him that, despite the dissolution of his and Swift's relationship—which came not long after she broke up with Joe Alwyn, her partner of several years—"You are loved."
Healy noted that that was presumably a reference to his romantic travails, saying "I'm not very online at the moment," and suggesting that people on the internet have presumably been calling him a word that ET stylized as "c*nt," which presumably stands for "cool guy who has just ended a short relationship with one of the most famous women in all of entertainment."
But do not fear, Healy fans: The experts have the matter in hand. "I've not been online," Healy told the crowd "But what I have been with is my boys. And honestly, as much as I appreciate that," he said, referencing the "You are loved" sign, "it's so beautiful, and I thank you. But I don't need it, because I've got them." (Healy then did not break into an impromptu rendition of Deniece Williams' "Let's Hear It For The Boy," because we are not yet the screenwriters of all reality.)