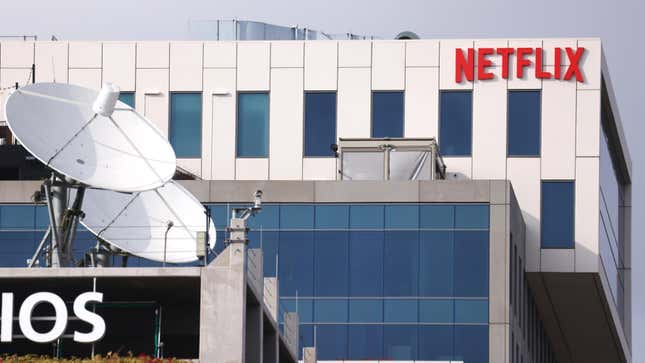 The cold, unfeeling boot of capitalism has put a W up on the scoreboard yet again this week, as IndieWire reports—working from data provided by research firm Antenna—that Netflix's efforts to stamp down on password sharing among its users (and their various siblings, children, friends, and pets) has resulted in a big subscriber jump for the lousy cops subscription streaming service.
Netflix plans to make you freeloaders finally cough up the dough
Specifically, Antenna looked at average subscription rates for the service, and found that they had their biggest spike in years, more than doubling, in the days immediately after Netflix announced that it'd begin limiting shared accounts for its service based on IP address in the U.S. (After about a year of testing out similar programs in other countries.) The immediate consequence of which seems to have been people grumbling, then hitting the button to shell out for their own accounts—because otherwise their friends were just going to be insufferable about trying to talk to them about I Think You Should Leave sketches that they haven't seen yet because they don't have access to their mom's account anymore. (To pick an example certainly not pulled directly from our own group chats.)
This is, at least in the short-term, good news for Netflix, which kicked off the crack down after looking around at the streaming landscape and realized it had run out of new people to get hooked on its offerings—to the point that the company's shareholders started getting legally testy about the streamer missing subscriber projections. (And here's our gentle reminder that the incessant pursuit of "growth" is responsible for so many lovely, non-dystopian elements of our collective lives.)
Of course, this sign-up data only tells part of the story of the password crackdown; Antenna reports that outright cancellations also increased during this same period, although not at the same rate as the sign-ups. The real question, though, is whether any of this is sustainable: After all, barging into people's rooms, slapping the remotes out of their hands, and asking them to pony up is a trick the service can only pull once.