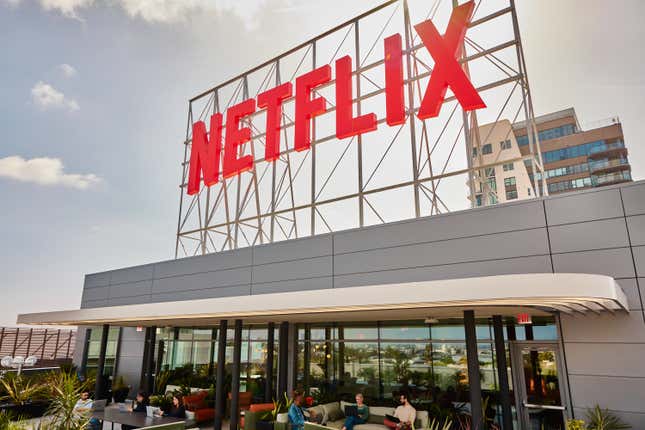 Six years after regrettably tweeting, "Love is sharing a password," Netflix has put a price on love, and it's $7.99. The password-sharing apocalypse consumers have been staring down the barrel of for years has finally come to pass. The company has begun emailing subscribers about how they'll have to pay even more money for a service that seemingly gets worse every year. That's love, baby.
Netflix plans to make you freeloaders finally cough up the dough
Practically, this will finally get all the ex-romantic partners, roommates, and other miscellaneous stowaways off our Netflix accounts. And it's not the $2 or $3 extra per shared account prices that were bandied about when the company tested it two years ago. It's basically the price of a regular Netflix subscription to add a new user to an existing account. Sharing subscribers can finally pay those retro 2014 prices for the service or transfer their profile and open their own account for full price. What a steal!
But that's not all: Only users paying for Netflix's most expensive plans will have the option to share a password—with some serious restrictions. For one thing, with the "Standard" $15.99/month Netflix Subscription, users are only allowed to add two extra members; its highest-priced tier plan allows for three. So basically, they're forcing everyone to go ahead and get a plan, or at the very least, giving password-sharers a slight discount on a plan, something akin to a cell phone family plan.
But for parents sending their kids off to college, this means another expense. Anyone on Netflix's "Basic" or "Standard with Ads" plans will have to upgrade in order to share their account for $7.99 per extra member. And if someone has multiple kids in college, they'll have to play favorites, upgrade their plan or buy new subscriptions for the less-loved child. Under a "Standard" $15.49 Netflix plan, that might look like this: Parents will send little Timmy an invitation to be an extra member and pay $7.99 a month, so he can enjoy Wednesday as he struggles through freshman year at Rutgers. Little Sally can also get in on the action at NYU for an additional $7.99. But if little Suzy, who starts her Oberlin journey this fall, wants to join the family plan, they'll have to upgrade to Premium, which is $5 a month more than Standard, and add another extra member for $7.99, or Suzy will have to get her own subscription. Ain't the streaming wars grand?
Password sharing is an age-old tradition on Netflix, one the streamer was happy to ride to success. After all, the company estimated that 100 million accounts shared passwords—43% of its users. "We love people sharing Netflix whether they're two people on a couch or 10 people on a couch," Netflix CEO Reed Hastings said in 2016. "That's a positive thing, not a negative thing." What this new structure does is force people to buy a new couch from Netflix, a company that generated $2.1 billion in its first quarter this year, potentially ruining Memorial Day weekend as the children of subscribers play IT support for those trying to navigate this mess.

Netflix's latest unforced error mirrors that of the newly rebranded Max, which, in an effort to confuse the hell out of its consumers days before the biggest episode of its biggest show airs, decided to make its name change a new app instead of an update. Then Warner Bros. Discovery violated agreements with the DA by not giving directors proper credit on the app. It's a mess that seems likely to get worse the closer we get to millions logging on at the same time to watch the Succession finale this Sunday.

These moves reflect a complete and utter disregard not only for the creative community but also consumers. Netflix, which regularly throws money away on projects no one can remember days after they are declared the most-watched movie in the history of cinema, is giving subscribers yet another reason to side with labor. Love was sharing a password. Now love is nickel and dime'ing consumers to please investors. To borrow another one of the company's catchphrases: Netflix is a joke.