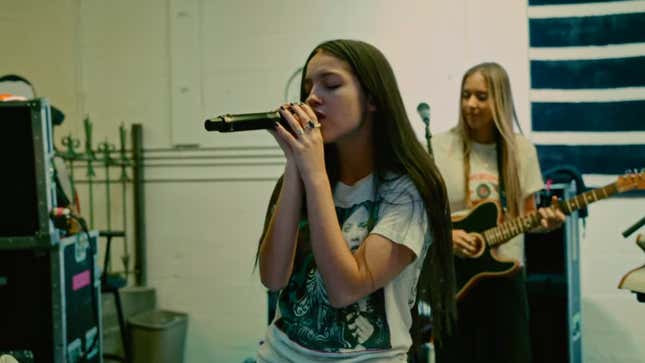 Olivia Rodrigo predicted what would become her debut album's biggest problem on the track "jealousy, jealousy": "Com-comparison is killin' me slowly," she sang. Of course, that was about the perils of the Instagram age, but it proved prescient when listeners started comparing SOUR to other artists. The chatter was so loud the budding pop star was forced to hand out royalties to Taylor Swift, Jack Antonoff, St. Vincent, and Paramore.
Selena Gomez vows never to become a meme again
At the time, Rodrigo told Teen Vogue she found it "disappointing to see people take things out of context and discredit any young woman's work." More recently, she reflected for The Guardian, "I was so green as to how the music industry worked, the litigious side. I feel like now I know so much more about the industry and I just feel… better equipped in that regard." When it came time to write her sophomore album, she claimed the perils of pop plagiarism "wasn't something I thought about too much."
Now that GUTS is here, though, Rodrigo's fans are definitely thinking about it. Across Twitter, Reddit, and TikTok, people are pulling apart the tracklist and trying to identify each sound. The Internet says "pretty isn't pretty" sounds like The Cure, and "bad idea right?" cribs from Wet Leg's "chaise lounge." One popular TikTok (which has nearly 900,000 views at the time of writing) makes a connection between the chorus of "all-american bitch" and fellow Disney alum Miley Cyrus' "Start All Over." Other possible artist influences include Katy Perry, Avril Lavigne, The Killers, Hole, Simon and Garfunkel, Phoebe Bridgers… the list goes on. Then of course there's the inescapable Taylor Swift, whom some fans speculate is the inspiration behind tracks like "lacy" or "the grudge," the latter of which includes the lyric, "You built me up to watch me fall/You have everything and you still want more." (Since Swift has cornered the market on writing songs about public feuds, so does that count as double inspiration?)
Olivia Rodrigo wears her influences on her sleeve
The truth is, GUTS does sound familiar—and that's a good thing. It's like the soundtrack to the best early 2000s teen comedy that never existed. Compare "Sunshine On My Window" by Spiderbait, featured on the 10 Things I Hate About You soundtrack, to "all-american bitch." Can't you see 10 Things' Kat letting loose to this song? She probably also read Joan Didion's The White Album, which Rodrigo cites as the inspo behind the track. The truth is, Rodrigo has always worn her influences on her sleeve, quite literally: in a rehearsal video for "all-american," she wears a shirt bearing the image of Fiona Apple, another icon for brainy female prodigies raging against the machine.
Where SOUR's sonic influences felt close at hand, GUTS goes back a bit further, unearthing '90s and early 2000s grunge and pop-rock. These songs put a fresh spin on sounds audiences already like, but for some reason this kind of recycling is especially notable when Olivia Rodrigo does it. Here's another comparison for you: Dua Lipa's disco-inspired album is literally called Future Nostalgia, and she didn't get anywhere near the attention for cribbing from music history.
Maybe Rodrigo is right that this line of criticism is targeted at her specifically because she's a young woman. Perhaps our sexist culture was always going to frame a teenage girl as having accidentally stumbled into a sound rather than cultivating it, as stealing it rather than reimagining it. Except, that's "how rock and roll works," as Elvis Costello defended when the song "brutal" was being compared to "Pump It Up." "You take the broken pieces of another thrill and make a brand new toy." Or as Rodrigo put it to Teen Vogue, "All music is inspired by each other."
Rodrigo is growing into a true musical craftsman, someone with an uncanny ability to capture the zeitgeist not only by tapping into what people are nostalgic for but understanding what's current, too. One aspect of GUTS that captures her signature sound is her ballads. "Vampire" is a natural evolution from "drivers license," a song that was always purely, authentically Olivia—that electric originality is what made that song a smash hit. The rock songs may be a fun look back, but the slow ones are a glimpse of the future, the soaring voice of an emerging artist finding her own sound and having fun with lots of others along the way.