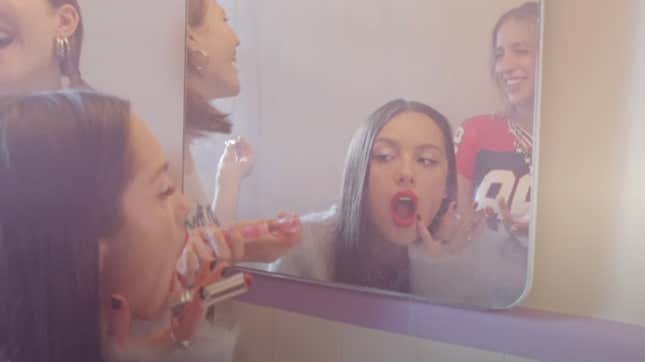 In the words of an oft-shared Twitter meme, it's a huge day for teenagers in their 20s. That's because 20-year-old teenager-in-chief Olivia Rodrigo is finally back, and she's having more bad (but actually very good) ideas than ever.
Selena Gomez vows never to become a meme again
The "good 4 u" singer and typewriter appreciator dropped her second track and an accompanying music video from upcoming album GUTS today, proving that the dreaded sophomore slump has absolutely nothing on her. "bad idea right?"—a grungy bop for all the "brutal" stans out there—follows lead single "vampire," released in June.
The video, which was directed by frequent collaborate Petra Collins and features Olivia's real-life besties Iris Apatow, Tate McRae, and Madison Hu, is a soft, '90s-esque journey that begins at a party straight out of Clueless (but more purple, obviously), includes a few genuinely bad decisions (don't drink and hitchhike, folks!), and ends in an image that could have come from either Hereditary or The Boys. But, like, in a hot and fun way! We'll just let you watch it for yourself.
The track itself sees Olivia tapping back into the same pop-punk-inspired sound she explored throughout SOUR, but in a more mature, slightly less high school way this time around—not that we didn't all love crying about getting our driver's licenses, of course. There are echoes of everyone from Avril Lavigne to Wet Leg to Soccer Mommy here, but at the end of the day, it really is pure Olivia.
If "good 4 u" was a song for TPing your ex-prom-date's house, this is a track to scream with your girlfriends and a bottle of peach schnapps at the freshman dorm pregame. In other words, it rules.
GUTS is out September 8.