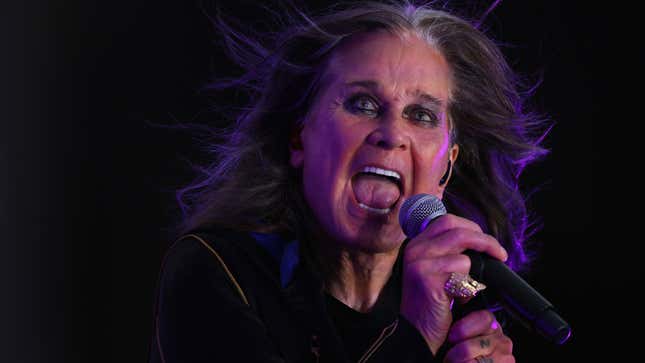 Despite what it might mean for the safety of bats in the music industry, it's sad news today from Ozzy Osbourne: after canceling all his upcoming shows, the artist has said he's done with touring for good. Per Osbourne (who is 74), life on the road is something he can't physically sustain anymore.
Osbourne announced the news via a statement shared on Twitter, which he called "probably one of the hardest things I've ever had to share with my loyal fans."
"In all good conscience, I have now come to the realization that I'm not physically capable of doing my upcoming European/UK tour dates, as I know I couldn't deal with the travel required," Osbourne writes. "Believe me when I say that the thought of disappointing my fans really FUCKS ME UP, more than you will ever know."
Most of his physical difficulty, Osbourne explains, stems from a major accident he suffered four years ago, wherein he seriously damaged his spine. Since then, Osbourne writes his "one and only purpose" has been to get back onstage (he also emphasizes his singing voice is "fine.") But even after three operations, stem cell treatments, physical therapy, and Cybernics (HAL) treatment, Osbourne says he's still "physically weak."
Osbourne has had to limit his touring engagements in the name of physical rehabilitation before: in 2019, he postponed a series of dates to recover from spinal surgery and a bout of pneumonia. In 2020, he also revealed a Parkinson's diagnosis.
Moving forward, Osbourne hinted that his team is currently brainstorming ideas for venues where the artist "will be able to perform without having to travel from city to city and country to country."
Despite the disappointing news, Osbourne focused most of his message on gratitude towards his friends, family, and band, even shouting out his "longtime friends" Judas Priest. But for the most part, Osbourne thanked his fans, for "endless dedication, loyalty, and support, and for giving me the life that I never ever dreamed I would have."