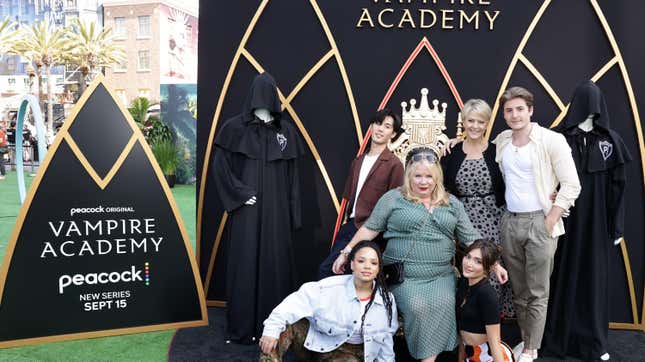 Julie Plec is not have a good month at Peacock.
Exactly one week after the NBC-affiliated streamer killed off Plec's latest bloodsucking YA adaptation, Vampire Academy, the service has swung around to, like, finish off the job: Per Variety, the Vampire Diaries' creator's new show, Dead Day, is getting killed off before it even had a chance to air, despite getting a straight-to-series order back in January of 2022.
Tori Spelling on "90210", MTV, and "Love At First Lie"
Plec was developing the series with her old pal Kevin Williamson, who moved comfortably into TV in his post-Scream career, co-creating The Vampire Diaries (and its various spin-offs) with Plec for The CW. The duo were working together on Dead Day, an adaptation of writer Ryan Parrott and artist Evgeniy Bornyakov's graphic novel about a world in which the dead come back to life for a single night each year in pursuit of debauchery, reunion, and revenge.
But not on TV! Instead, Peacock pulled the plug, in what's felt like an increasing trend of networks stepping away from previous agreements to air a show. Universal TV, where Plec has an overall deal, is reportedly looking to shop the series around to someone else, because Peacock snapped the series up last year before anyone else could even get a look.
As Variety notes, Plec still has shows on the books at least—The Girl On The Bus at HBO Max, and yet another potential victim new show, Freeman, at Peacock. (No word yet on when either show will hit the air.) Still, that's gotta sting, as Peacock (which, like all the streamers, is wrestling with the economics of the format, and the desperate need to carve out an identity for itself from its competitors right now) apparently decides it's not in the "Dead people do stuff written by Julie Plec" business all of a sudden.