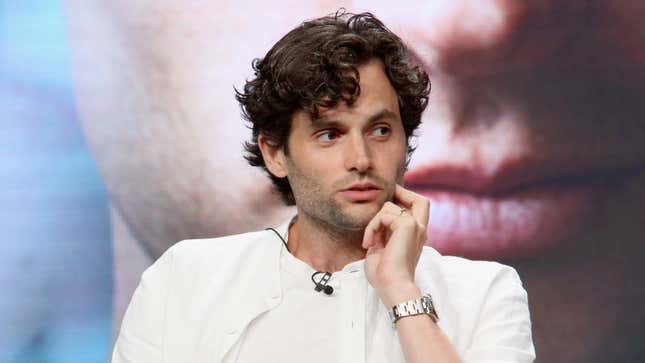 It seems like Penn Badgley is the center of (almost) as much discourse as Jeremy Strong these days. But while Strong has become infamous for tying his personal life a little too close to that of his characters, Badgley is doing quite the opposite.

In case you missed it (or are blissfully removed from the battlefields of film Twitter), the You actor made headlines back in February for revealing that he'd asked series co-creator Sera Gamble to cut his character's sex scenes down to basically zero, partly because his personal ethical code includes "fidelity in every relationship, including my marriage [to wife Domino Kirke]." He later elaborated on this perspective, explaining that intimacy scenes in general are "not a place where I've blurred lines" because "that aspect of Hollywood has always been very disturbing to me—and that aspect of the job, that mercurial boundary—has always been something that I actually don't want to play with at all."
While no one should be forced to film any scene–especially a sex scene–that makes them uncomfortable, the internet took this declaration of one man's personal boundary and acted as though he was speaking for the industry as a whole, a jump that apparently led him to actually have to speak to the industry as a whole.
Badgley addressed the controversy in a recent GQ interview, saying that he felt his comments were "blown out of proportion." He continued: "What I was speaking about wasn't actually the final product... It was sort of like the culture inherent to the production of all movies, but particularly those scenes. It's like, look, we know that Hollywood has had a history of flagrant exploitation and abuse."
The actor went on to praise Gamble, who he says made that difficult discussion (which has likely not been helped by the internet's response) far easier. "I was nervous to even have that conversation. It was not easy, he said. "It was easy because of Sera's response, and I felt relieved. But technically speaking, if I thought I'd had the ability to set that boundary earlier, I would have... We shall see if setting that boundary, of course, has any ramifications. Just simply, it does limit the number of projects you can be a part of."
As for the quality of the show, Badgley asserts that putting his foot down "didn't change the trajectory of the season at all," adding, "I mean, Joe was naturally ready to not be in that position anymore."
As for the decision to split season 4 into two parts, something that definitely did affect the pacing of the story? That was all Netflix. "It wasn't ever meant to be released as two parts," Badgley said. "When I found out, I was like, 'We're going to leave a month between [episodes] five and six? That's a big old diversion." Amen, Penn.