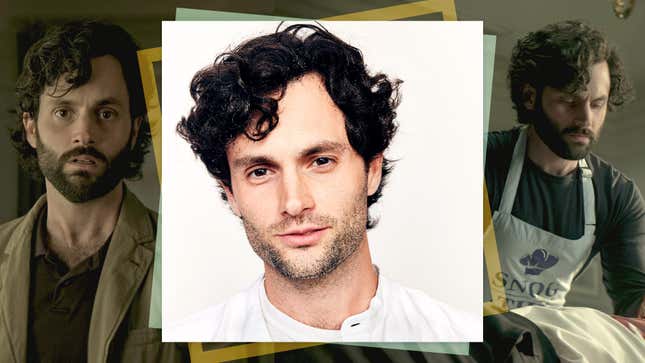 [Editor's note: This interview contains spoilers for You season four, part two.]
There's no stopping Joe Goldberg. Penn Badgley's terrifying character survives the fourth season of You, which wrapped with five wildly entertaining episodes on March 9. The Netflix thriller is at its chaotic best in the final episodes as Joe loses control of his mind. His crimes catch up to him when it's revealed that Joe is London's "Eat the Rich" killer and that Rhys Montrose (Ed Speleers), who he's been interacting with all season, is simply a figment of Joe's imagination.
Joe's declining mental health, which causes him to forget he trapped Marienne (Tati Gabrielle) in a cage, is the focus here. And thanks to the writers and Badgley, who gives a compelling performance, the show justifies the onslaught of twists in part two after the fourth season's relatively subpar first five outings. The A.V. Club spoke to Badgley about how he navigated Joe's turbulent season-four arc, his character's psychosis, his first directing experience on You, and, yes, that viral Taylor Swift TikTok.
---
The A.V. Club: The last three episodes of season four had me screaming at my screen. When you read the script, how did you feel about the reveal that Joe is Rhys, and about his journey after that?
Penn Badgley: To me, when Joe discovers that Rhys is him ... it may not have been planned this way from the beginning, but it feels like the series has been headed here. If you focus on the conceit of You, he renders all people into objects, for judgement or, you know, the final judgement. He's got his box and works on his objects and tries to control them. It's a metaphor for Joe's inability to be in a relationship and be reciprocal, vulnerable, or courageous enough to be honest. The whole thing to me is this great allegorical exercise in Joe and the show realizing, "It's not you, it is me."
It really is what the whole thing is for anybody in a relationship. You have to realize it at some point that, "Okay, I can't change anybody; I can't change how someone behaves or feels. The only thing I can change and influence or control is how I respond to my feelings." It takes a long time to learn that and put it into practice. So even though I don't think Joe is capable of rising to that full level of consciousness, he's at least realizing something of it. So I loved it. It's the only place the show could go to stay true to the human emotions with such an absurd central character.
G/O Media may get a commission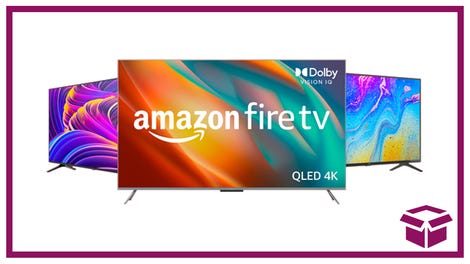 Ooh. stunning.
New Amazon Fire TVs
AVC: The first half is framed as a whodunit until the rug is successfully pulled out from under us. Did this genre shift impact how you approached playing Joe?
PB: Yeah, the challenge was to know all of this and stay the course and not do anything differently. The writers had to figure out more about how to keep it a different genre while still keeping the show in the same lane. I was hopefully a helpful partner and shared my thoughts, but I stayed the course and I had to keep being Joe.
AVC: What was it like to delve into Joe's psychosis so thoroughly in the scenes you share with Ed Speelers in this second half?
PB: What was lovely and fun about my scenes with Ed is I didn't have to play up Joe's psychosis, even if that is what it's definitely about. I'm still talking to Rhys as Joe. I'm angry at him, and yeah I'm actually angry at myself there, but that was the beauty of this story as opposed to reality. Our show has never been a clinical portrait of a serial killer. It's more a metaphorical meditation or exploration of love and what we think of love. That's what the show has always done, and Joe is the device to achieve that. To play him as a disgusting killer would be exhausting and self-indulgent and not the thing meant to make the show work. I just embraced that more with Ed and treated Rhys as an actual other person instead of a part of me.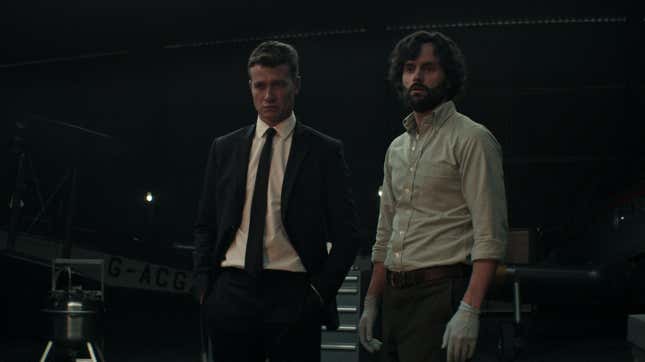 AVC: I think that's most evident in the finale, when Joe pushes Rhys down from the bridge first before jumping into the river himself.

PB: You know what's funny? I don't get that either. When I first read that, I went "Hmm."
AVC: In retrospect, that makes it clear Joe still thinks of Rhys as a separate entity, but that changes by the end because Joe survives his fall. Did you all consider actually killing him off and ending You with this season?
PB: I think the writers always knew Joe had to come home. The way I see Joe's story ending is how the creators see it too, partly because they pitched it to me years ago. And I thought, "Oh, that's smart, that's how it should end." So I have my heart set on that, but I just can't talk about it yet.
AVC: You gets a lot of new cast members each season, but this one had a big overhaul because Joe's in a new country with a different crowd.
PB: Yeah, the main holdover we had from season two to three was Victoria. In this case, it's accentuated because, as you said, it's a new setting so I had to keep being Joe even more as everything around him changes so much. I approach it spontaneously every time. It's not that I haven't tried to change him though.
AVC: Well, in that case, four seasons in, do you find it easier to get into and out of Joe's mindset now as the show's anchor?
PB: I don't know how others do it but acting is a strange thing where it's a craft and you're the instrument. I do think that for actors, none of us are sure how it works. I think that's true. You ask a guitarist; they know exactly how playing it works. Some people are precious about their process. I am not at all. I think it would be insufferable to be serious about it with someone like Joe. If it's a scene where I have to do something grotesque, of course I try not to be distracted by too many things, but I can get there quickly. It's a portal that opens up. Also, fake dismembering and murder is a lot of work. I'm always in better shape by the end of the season. Not for nothing, but I have to switch to being vegetarian halfway through the season and fast intermittently. It's hard to rage out for hours straight [on set as Joe] otherwise. Playing Joe keeps me in the best shape.
AVC: Does changing into Joe's gravelly voice help?
PB: It does. I'm figuring out how to get into that voice with more and more consistency. I have a normally deep speaking voice but I still don't feel I have as much mastery of it as I'd like. I do still get nervous now and then about it.
AVC: How was your experience directing You's ninth episode? Is that something you want to do again?

PB: It was purely a logistical challenge to be in two places at once. It was like doing three episodes, where I had to prep during one episode, then film and direct my episode, then shoot the next one while also editing the one I directed. It was a phenomenal amount of work. I had no life. If my family had been in London then they wouldn't have seen me and been super pissed off. [Laughs] It was like living in a cup of coffee. Great to know that I can do it, but I don't think I'll direct another episode of You. It's a bit much, but I'd love to develop and direct other projects down the line.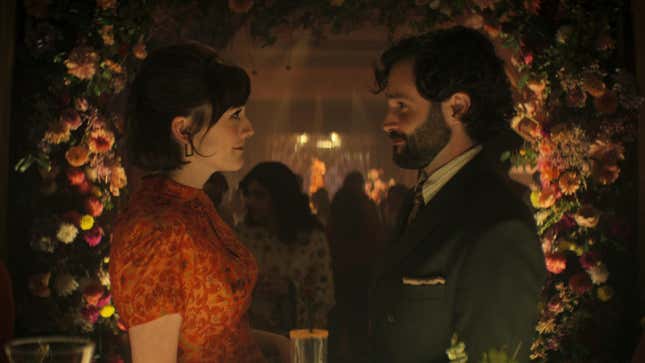 AVC: Can we talk about the Taylor Swift Easter egg from your first TikTok and the "Anti-Hero" needle drop in the You finale? Was that planned at all?
PB: I think they did it because of my TikTok actually. I posted it right when the record came out, so that had to influence it. Now for a certain demographic, I've [tied] myself to "Anti-Hero," and I didn't realize I was doing it but here we go. I also think it's funny that it influenced the decision the writers made.
AVC: You're skilled at posting on TikTok through your own account but also through your podcast, PodCrushed. What was it like to figure that out and how did you get so good at it so quickly?
PB: That's true. [Laughs] I don't know; it's a good question. We're certainly both lucky and strategic. At the end of the day, there's something about social media that, like everything I'm a part of, I'm not sure I want to embrace it but I do know how to execute it in some way. TikTok is nice because it's meant for pure fun and lightheartedness to me. I didn't like social media in the past; I didn't want to waste my time unless I was doing something significant with it.
I'm glad you mentioned PodCrushed because we have been working on it as a team to read the TikTok landscape and respond to it. Fun fact: My cohost Nava Kavelin is the one who told me about Cardi B's tweet about our show. I'd seen it but my inclination is not to respond. But once she pointed it out, it felt big. Somehow together we know how to respond to what's happening. The Taylor thing was a response, right? She put out the song, and I was looking for a way to join TikTok. Nava loves Taylor. She could at least battle the number one Swiftie. If she met Taylor, which might be in the cards, she would evaporate.
AVC: The finale ends with Joe buying a bookstore in New York City. Is it safe to assume it's the same one he worked at in season one?
PB: You know what's so stupid? I hadn't even thought about that. Would we go back to Mooney's? Holy crap. I would want to see the bookstore with more glass and light now that he has all the money though.
AVC: Do you have a favorite bookstore in New York City? Do you like reading?
PB: I do have one but I love it so I don't want to mention it. There's one on my block that I won't name, but I also love McNally Jackson. I love to read and spend time alone doing it. I read very different books from Joe. I like history. Does Joe like history? I don't know. His favorite fiction is my least favorite kind of reading—famous white writers from the '40s to the '80s. I couldn't be less interested in them. If you named a group of people I'm willing to be most biased against, it's them. I don't love fiction because I think it has to be exceptional to resonate, but I love Zadie Smith.
AVC: Coming back to Joe, I am curious to know what you find challenging about playing him at this point. And was there a particularly tough scene to film in season four?  
PB: Physically speaking, the most challenging by far was the underwater scenes in the finale because the stakes are mortal and we don't have those with Joe. It was also emotionally draining because I remember thinking, "Where's the line with the depiction of somebody attempting to take his own life?" But see this is the thing: I played it as him not taking his own life but taking somebody else's, a.k.a. Rhys', to save Kate. In his bizarre logic, he's still doing the same thing he's always done. He's problem-solving.
In our whole strange metaphorical hall of mirrors, I don't even feel like we're depicting someone in real life at all. But we're trying to ground that emotionally, trying to understand the difference between Joe and Rhys, who I'm killing when. [The challenge is] to give some reality to waking up afterward in a hospital room with Kate. With Joe, he's in so many places and is so many people at once, it's hard to know where he falls and what my performance should be doing. So the hardest thing is staying the course as everything else gets crazy around me.
AVC: I think episode eight hits really hard emotionally because of all your scenes with Marienne.
PB: For the record, I think episode eight is the best of the series.
AVC: I fully agree because it shows the levels to which Joe has lost control of himself.
PB: The episode has less Joe, by the way. It's almost like the whole series was building toward giving a character like Marienne the stage for half an episode, and you're like, "Whoa, why have we been watching this dude this entire fucking time?" If that's what the whole series does, that's actually really cool. You don't get that a lot.