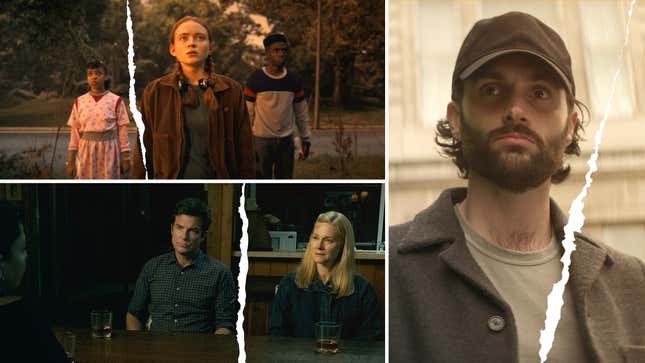 The biggest drawback to You's latest season isn't anything that actually happens on the show but rather its unnecessary division, with five episodes premiering on February 9 and the remainder dropping a month later. The show's creators didn't initially design season four to be split up, and Netflix's decision to do so really messed with the viewing experience. See, the Penn Badgley-led psychological thriller is a spectacularly binge-worthy mystery, a show that's perfectly suited for the streamer. It's why Netflix acquired it from Lifetime after season one in 2018, breathing new new life (and massive viewership) into the series. But now, the company's split-season strategy has dulled the impact of season four's bonkers (and quite good) final episodes.
What a pickle! Can the cast of Rugrats conquer our cartoon quiz?
Netflix has resorted more and more to split seasons for popular shows in recent years, giving the treatment to Stranger Things and Ozark. It's a stark contrast to the binge model Netflix thrived on with early hits like Orange Is The New Black, House Of Cards, and Grace And Frankie. After decades of weekly episodic releases on network TV, it became the first big streaming platform to allow audiences to consume an entire season in one sitting. The binge model became synonymous with Netflix in the past decade while competing streamers like Hulu, Apple TV+, and Disney+ mostly opted for a weekly release schedule.
As it struggles to find the optimal approach in the crowded peak TV era, Netflix seems to swivel between entire season drops (Outer Banks, Dahmer) and dividing them up, like it did with You and South Korean drama The Glory, the first season of which continues with "Part 2" after debuting in December 2022. It's not a stretch to say that this inconsistency—splitting seasons for certain shows but not others—has caused a splitting headache for fans. Netflix has forgotten what made it stand out in the first place.
Sure, there are pitfalls to releasing all episodes at the same time in this market. It's difficult to maintain the hype around a binge show for a long period of time compared to the extended attention that comes from airing episodes weekly. Look no further than last year's sleeper hits like Severance and Yellowjackets as proof, or HBO's great dramas like The Last Of Us, Euphoria, and The White Lotus, which all generated conversations and buzz after each outing. Netflix hasn't been able to garner the same momentum, so it's chosen to break up its already notable dramas instead. And the effect is...not pleasant.
The highly anticipated fourth season of Stranger Things was split into two "volumes" last summer, with seven episodes airing on May 27 and the remaining two five weeks later on July 1. Ozark's fourth and final run suffered a similar fate, with a break of three months between batches. Those brief gaps feel totally absurd, and have a less rousing effect in terms of the storytelling.
G/O Media may get a commission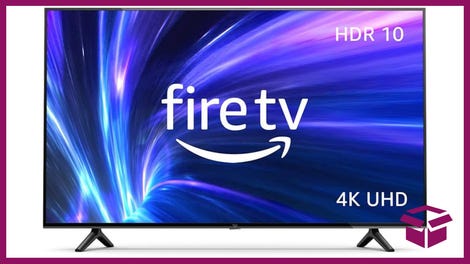 42% Off
Amazon Fire TV 50" 4K Smart TV
Admittedly, Netflix is far from the first big platform to chop up its popular shows, which also include Lucifer, Arrested Development, and BoJack Horseman. AMC did it with Mad Men, Breaking Bad, Better Call Saul, and The Walking Dead. (The latter's 11th season got split into three parts for some reason.) In some cases, this choice might be related to production, for instance, if all episodes haven't been filmed or edited yet. Or, as was the case with Unbreakable Kimmy Schmidt's fourth season, Netflix dropped six episodes on May 30, 2018, just in time for the Emmys consideration deadline, while the final six debuted several months later in January 2019. Heck, we can go all the way back to HBO breaking up sixth and final season of The Sopranos, but the gap between the two parts was a reasonable whole year.
In the aforementioned Netflix series, their shorter durations make the cleaving of seasons questionable and frustrating. It's a transparent ploy to rack up subscriptions and social media chatter as audiences wait for more episodes. However, this half-baked release model has soured the consumption of shows like You. The month-long break, smack dab in the middle of its delirious fourth season, actually suppressed the enjoyment. What's more, it leaves room for fan theories that could just make the twists more predictable. 
There's no telling if Netflix plans to continue this strategy for upcoming seasons of shows like The Witcher or Bridgerton this year. But here's hoping the streamer's powers-that-be hear our humble plea and figure out a plan that isn't as confounding and irksome as this one.