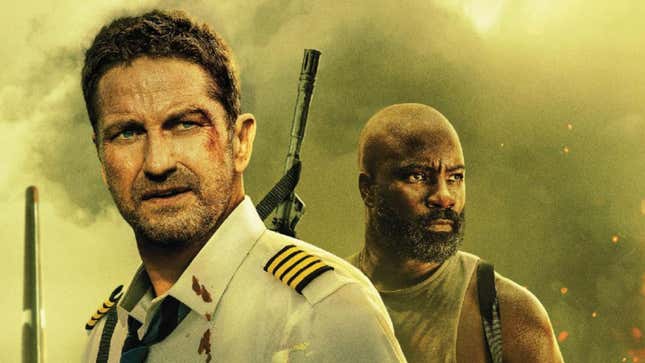 Who do you call when the plane's engines are down, a hardened criminal is your greatest ally, and the innocents you've sworn to protect have been handcuffed and sequestered? The same hardened heartthrob that answers the phone when a geostorm is brewing, when Jennifer Aniston must be brought to justice, or when any given international political system "has fallen": Gerard Butler! Butler's latest project, the action film Plane, officially has a final trailer that once again finds the actor back in yet another life-or-death scenario, proving his merit with each tortured glance from beneath a bloodstained brow.
Described as a "white-knuckle action movie," the new project from director Jean-François Richet follows pilot Brodie Torrance (Butler) on the passenger flight from hell. After Torrance is tasked with transporting accused murderer Louis Gaspare (Mike Colter), his plane crash-lands on an island ravaged by infighting between different militias, and most of his passengers are kidnapped by hostile rebels.
Judy Garland's previously missing Wizard of Oz dress to be auctioned off
Like countless unwilling allies before them, Gaspare and Torrance are forced to work together to save the rest of their flock— and once Gaspare reveals his prowess with a machine gun, their bond is cemented. The details around why exactly Gaspare was arrested (and if he's even guilty of homicide) aren't made clear, but as they traipse through the jungle, Torrance begins to see his once-problematic cargo as the ultimate asset.
In addition to starring, Butler also executive produces Plane, alongside Lorenzo di Bonaventura, Mark Vahradian, Marc Butan, and Alan Siegel. Yoson An, Daniella Pineda, Paul Ben-Victor, Remi Adeleke, Joey Slotnick, Evan Dane, Taylor, Claro de los Reyes, and Tony Goldwyn round out the cast.
Plane crash lands in theaters on January 13.