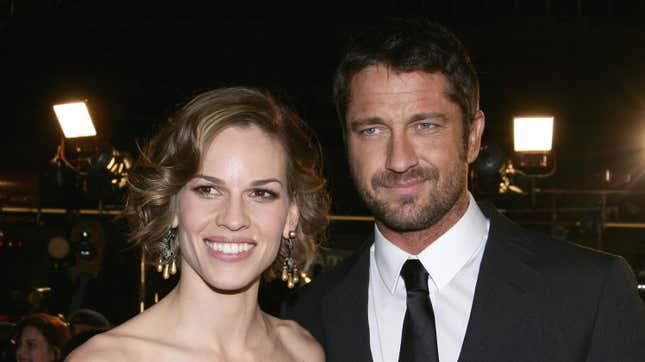 Gerard Butler is on the ol' promotional beat right now, drumming up interest for his new mononymic action movie, Plane. (And is it just us, or should that be stylized Plane!, like with Airplane!? Just saying. Plane!) Said promo duties included an appearance this week on The Talk Show Of Record, a.k.a. The Drew Barrymore Show, where Butler reflected, at Barrymore's prompting, on his career—including the time he sent Hilary Swank to the hospital with a sexy dance.
This was on the set of the duo's romantic drama P.S. I Love You, in which Butler played Swank's husband (and then ex-husband, but in a sad, brain-tumor-y sort of way). To demonstrate the fun, flirty side of the pair's relationship, the 2007 film includes a bit where Butler dresses in suspenders and boxer shorts, dancing around goofily until he accidentally hits himself in the head with the suspenders' broken clip. Which was apparently rigged so tightly that the film's camera crew had shields in front of them to protect themselves when it went flying—but Swank, unfortunately, did not.
As Barrymore—one of daytime talk's Great, Wonderful Weirdos (who also, earlier in the interview, hilariously referred to Butler's old 300 costume as a "diaper")—listens with rapt attention, Butler describes what happened:
At one point, the clip, which was a crocodile clip, got stuck in the television as I'm crawling towards her, and she's right in front of me, laughing hysterically. The camera people had these plastic fronts to protect themselves from this crocodile because I had to ping it, and it would go [flying] past my face. I'm crawling towards the bed, it gets stuck, it releases, flies over my head, hits her in the head, slashes her head. I mean, I cut her open. You could even see the teeth of the [crocodile]. She had to get taken to the hospital. I'm just sitting there in my boxer shorts and my boots and a pair of socks, and I just started crying.
And that's how Oscar winner Hilary Swank was almost literally blinded by Gerard Butler's sexy dancing.