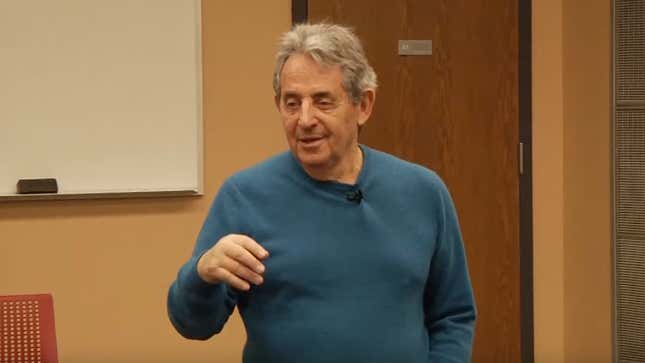 Norman Steinberg, the comedy writer best known for the 1974 smash-hit comedy Blazing Saddles, has died. As confirmed by his family, Steinberg died on March 15 at his home in upstate New York. He was 83.
Young Mazino talks "Beef," needle drops, and karaoke
"It's a sad day when Norman Steinberg leaves us," Mel Brooks tweeted. "From Blazing Saddles to My Favorite Year, he was one of the best writers I ever worked with. I'm so glad I rescued him from a dull stable legal career, because he always permeated the writers room with his infectious comic spirit."
Born on June 6, 1939, in Brooklyn, New York, Steinberg grew up in Pittsburgh and Maryland. He returned east after graduating from the University of Pittsburgh School of Law in 1964. Following a stint in the Army Reserve, Steinberg became a copyright lawyer in New York, who worked on the publishing rights of the Beatles' "She Loves You."
Steinberg was unhappy as a lawyer but would make regular trips to the Chock Full O' Nuts coffee shop near his office, which Mel Brooks frequented. The two became friends, and Brooks asked him to write a Get Smart episode. Unfortunately, the show was canceled before the episode was produced. Still, the experience got him a job writing for David Frye's comedy album I Am The President, which won Steinberg a Grammy. After that, Steinberg was off to the races and soon found himself an Emmy winner for his work on the Flip Wilson show, Flip, his second writing job, where he worked with Richard Pryor and George Carlin.
"Flip paired me with George Carlin — he was great, and he became my partner," Steinberg said. "It was a number one show — we get nominated for an Emmy, so I get an Emmy! My first two jobs basically, I get a Grammy and an Emmy (handed to me by Jimmy Durante)."
More television followed until Brooks again came calling. Brooks was starting work on a script by University of Wisconsin student Andrew Bergman entitled Tex X, a western comedy that Steinberg found "funny as hell" but needed work. The movie was Blazing Saddles, one of the era's most influential and beloved comedies, but Steinberg had to convince Brooks they were on to something.
"The day that Mel showed the film to Warner Bros. — he came back to the office, he was ashen," said Steinberg. "He said they didn't laugh once. He said 'I'm going to re-cut the film.' Andy [Bergman] and I begged him to wait until the screening we had that night with all the Warner office workers. And they went bat shit, and it never changed. People were falling on the floor — because it was so outrageous at the time. And Mel said 'Fuck 'em this is our film,' and that was the film that was released."
Steinberg's 1974 wasn't over yet. He also helped develop the classic children's television special Free To Be… You & Me, a revolutionary Emmy-winning production.
In the late 70s, Brooks was brought in on a script by Dennis Palumbo about a young man forced to chaperone Wyatt Earp through New York at the behest of a book publisher. Producers knew that a period piece would be too expensive, so they suggested taking the premise and making it about Errol Flynn and Mel Brooks called In Like Flynn. Steinberg was brought aboard to rewrite what would become My Favorite Year, and "10 drafts and four years later, we got it made." The movie was a hit with critics and earned Peter O'Toole an Oscar nomination.
Throughout the 80s, Steinberg would continue to work on comedies, including two Michael Keaton comedies, Johnny Dangerously and uncredited work on Mr. Mom. Later in life, he founded Long Island University's master's program in television writing. Dubbed the TV Writer Studio, Steinberg led the program for over a decade.
"Many young writers are reluctant to offer their opinions at the table for any number of reasons," Steinberg said. "Once again, this is a collaborative medium. So… collaborate. Speak your mind. You may be off base, but take the chance that you might be bringing some great insight to the discussion. Throw the punch."