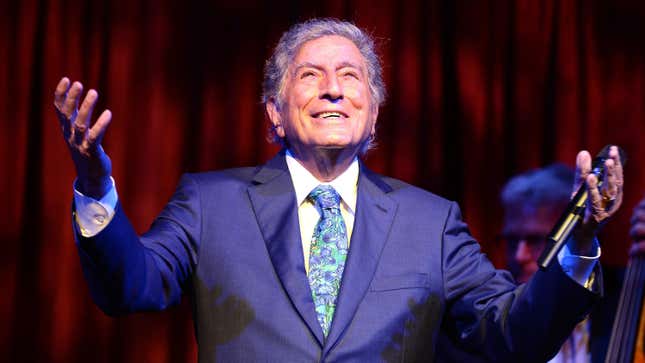 Tony Bennett, an iconic singer and performer with a seven-decade career, has died. He was 96 years old. His publicist Sylvia Weiner confirmed to the Associated Press this morning that he passed away in his New York City home. While no specific cause of death was shared, Bennett was diagnosed with Alzheimer's disease in 2016; the diagnosis was shared publicly in 2021.
Dolly Parton doesn't have time to hang with Kate Middleton, but thanks anyway
In life, Bennett had a truly singular career. He received 20 Grammy Awards, including a final win in 2022 for Love For Sale, his second album with Lady Gaga. In his career, Bennett sold about 60 million albums and collaborated with a staggering amount of fellow stars, including Ray Charles, Billy Joel, Amy Winehouse, Aretha Franklin, Queen Latifah, Willie Nelson, and many more. His style of performance, originating from and harkening back to the Rat Pack era, helped to introduce younger generations to standards, swing, and big band.
Born in Queens, New York in 1926 as Anthony Benedetto, Bennett grew up in poverty during the Great Depression. By age ten, however, he was already performing, singing beside Mayor Fiorello LaGuardia at the opening ceremony of the Triborough Bridge in 1936. By 13, he was performing as a singing waiter. In the early 1940s, he had his first successful singing gig in Paramus, New Jersey. Before long, though, World War II came calling, and Bennett was drafted to the frontlines of France and Germany in early 1945. In his autobiography The Good Life, he later shared that he was involved in the liberation of a concentration camp.
When Bennett returned Stateside, his musical career really began in earnest. After studying at the American Theater Wing via the G.I. Bill, Pearl Bailey invited him to open for her in Greenwich Village. Bob Hope was in the audience, who eventually took Bennett on tour and helped him cut his first demo in 1950. Anthony Benedetto became Tony Bennett.
In the early 1950s, Bennett found early success with his rendition of "Because Of You," a ballad that topped the pop charts for 10 weeks. Despite the ascendance of rock displacing the crooners from the charts, Bennett held relatively steady throughout the decade. 1962 saw Bennett record and release "I Left My Heart In San Francisco," the first song to become truly, indelibly his. Though only a moderate commercial hit at the time, it's now known as Bennett's signature song. In 2019, the singer told The Mercury News that the "song has been a blessing ever since."
Bennett had a major career resurgence as the new millennium approached. His son, Danny Bennett took the reins of his career in 1979, and slowly but surely helped him book new gigs after a cool period for his career in the 1970s. His well-remembered MTV Unplugged set in 1994 introduced the crooner to a generation raised on Madonnas and Michael Jacksons. "Tony wanted to do his music, and he had grown up with the premise that you perform for the entire family," Danny told The New York Times in 1994. "He told me, 'I hate the notion of demographics. Why can't I be on MTV?' And he was right."
The artist remained steadily booked through the '90s and '00s, releasing 10 albums between 1995 and 2010. 2011 saw another major artistic success with the release of his duet "Body and Soul" with Amy Winehouse for his Duets II album. The track is believed to be Winehouse's last recording before her death and was widely lauded, and made Bennett the oldest artist to chart on the Billboard Hot 100. The album also included Bennett's first duet with Lady Gaga, sparking a creative partnership that would define the last decade of his life.
Bennett and Gaga released Cheek To Cheek in 2014, taking the album on tour together and winning the Grammy Award for Best Traditional Pop Vocal Album. The two released another album, Love For Sale, in 2021, which would prove to be Bennett's final work. A month before its release, Bennett's son Danny announced his retirement from performing, based on doctors' instructions, and canceled his remaining tour dates. Even in his final year as he struggled with Alzheimer's, music remained a respite. "Tony may not remember every part of doing that show," Danny told Variety in 2021. "But, when he stepped to the side of the stage, the first thing he told me was: 'I love being a singer.'"
Rest in peace, Tony Bennett.