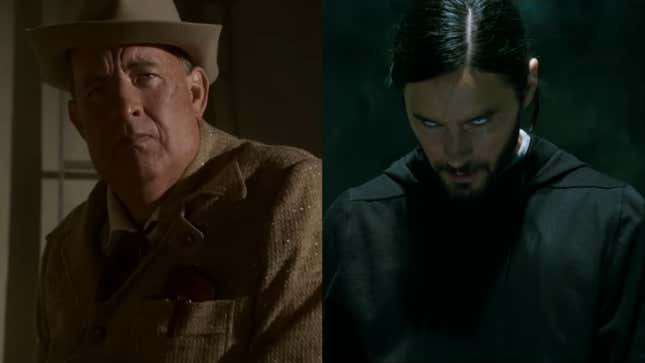 It's the Saturday immediately before the Oscars, which can mean only one thing in the world of pop-culture news: It's time to glance, as briefly as possible, at the Golden Raspberry Awards, a.k.a. The Razzies, before getting on with the rest of our days. Now in their 42nd year of offering low-level comedic commentary on the most obviously failed movies of the year, the Razzies have served up their latest bushel of low-hanging fruit this morning—including giving themselves an award after that whole "Maybe we shouldn't be making highly public fun of children" controversy from earlier this year. (A follow-up, of sorts, to last year's "Maybe we shouldn't be making fun of beloved actors who've just been diagnosed with aphasia" controversy. The Razzies: Fun for the whole family!)
Anyway: Today's "winners" include Tom Hanks, who won an award both for Worst Supporting Actor (for Elvis), and for worst on-screen pairing (for his relationship with his own "latex-laden face," also from Elvis). Internet meme factory Morbius also got drubbed, with both Jared Leto and co-star Adria Arjona both getting hit. And Blonde got tapped twice, both for Worst Picture outright, as well as for Worst Screenplay.
The most interesting bit—besides the Razzies being forced to reckon with the increasingly obvious greatness of Colin Farrell, who received a backhanded "Redeemer" award for his recent career resurgence—was the aforementioned mea culpa, though. After getting widely mocked online for targeting 12-year-old actor Ryan Kiera Armstrong for her performance in Firestarter, the Razzies instead gave the Worst Actress award to themselves, successfully beating out Bryce Dallas Howard, Alicia Silverstone, Diane Keaton, and Kaya Scodelario for the honor. At long last: Accountability and self-reflection in the field of making fun of mediocre film.
[via THR]