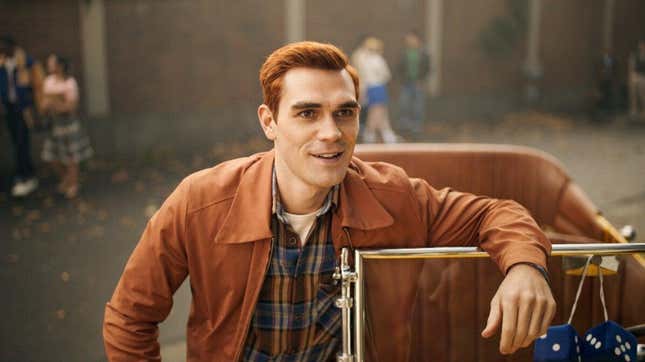 There's never been a better time to get onboard with Riverdale, which returns to The CW for its seventh and final season on March 29. Due to the magical comet MacGuffin in the previous season's finale, the slate has been wiped completely clean for Archie (KJ Apa) and the gang. Relationships have been reset, diplomas have been rescinded, and some characters have even returned from the grave. It's like watching the first season again, except the players are all old pros with easy, lived-in chemistries, and the writers are steering the ship with total confidence rather than figuring out what the show will be. And, oh yeah, it's the 1950s, for some reason.
"Doctor Strange" stars Benedict Wong and Rachel McAdams on navigating the MCU
Outsiders will want to write this time-travel plot off as just another Riverdale head scratcher, but as creator and showrunner Roberto Aguirre-Sacasa puts it, the '50s setting is both improbable and somehow inevitable. For longtime fans of the series, it makes total sense in a delightfully nonsensical way. And for fans of the original Archie Comics, this season is finally a payoff as it leans into the aesthetic of those classic comic books. The costuming and set pieces are just plain fun. And Jughead (Cole Sprouse) is wearing an actual crown!
In point of fact, '50s Riverdale is the most Riverdale that Riverdale has ever been. The delicate balance of love triangle and best friendship between Archie, Betty (Lili Reinhart), and Veronica (Camila Mendes) is more satisfying than ever. As the prophecy foretold, Jughead is a genuine weirdo, living on the fringes of the friend group (and the fringes of town). Characters formerly relegated to the sidelines like Ethel Muggs (Shannon Purser) are getting their own fleshed out storylines. This is particularly gratifying in the case of Kevin Keller (Casey Cott), whose previous deal, as Jughead points out, was mostly putting on musicals and joining cults. And there's a lot to look forward to for devoted 'shippers of Cheryl (Madelaine Petsch) and Toni (Vanessa Morgan).

Our faithful narrator (and the only character who remembers the present day), Jughead, gets all the timey-wimey exposition out of the way quickly enough, and it's good thing, too, because life in the '50s turns out to be much more engaging. Last season made the gang into superheroes; this season requires them to be social-justice warriors. Viewers may cringe at a CW show attempting to earnestly tackle era-appropriate civil rights issues, but those moments of unvarnished sincerity are what make Riverdale truly camp. Concepts like repression and purity culture, on the other hand, lend themselves quite deliciously to the show's core interpersonal conflicts. Generally speaking, the series is effective (if unsubtle) in proving the point that the good ol' days weren't so good after all.
If there's one drawback of going back to the drawing board, it's that resetting sometimes means rehashing things already covered in the original Riverdale timeline. Cheryl's experience of homophobia, for instance, is poignant but not all that different from what she experienced in the present day. (In both timelines, Cheryl's evil mother denounces her as "unnatural.") But those of us who grew up on fan fiction know the pleasure of reconfiguring a familiar story in an alternate universe, and in this particular case, Petsch plays Cheryl's closeted arc with aplomb.

All of the actors make the most of the material. Apa absolutely nails Archie's "aw, shucks" persona, with some genuinely hilarious line readings in the early episodes. Mendes, often left stranded by the plot in recent seasons, has been restored to the center of attention as a Hollywood It Girl, and it's exactly where she belongs. The whole cast seems to have come to the final season with renewed vigor. There's a meta element to a group of adults playing teens who are actually adults (or however this twisted timeline works), and they're doing so with a winking humor that's irresistible.
But just when you think the series has settled in to being a funny high school period piece, somebody turns up to a school function covered in blood. Riverdale is still the murder capital of the world, after all. It's a town full of dark secrets in any universe or timeline. The coming episodes will undoubtedly unravel in a typically outrageous manner that only this series is capable of—a manner, it must be said, that will be sorely missed when this final season concludes. For now, we get to enjoy Riverdale at the height of its powers, gorgeous, goofy, brilliant, and absolutely bananas. In other words: television at its most swell.

---
Riverdale season 7 premieres March 29 on The CW