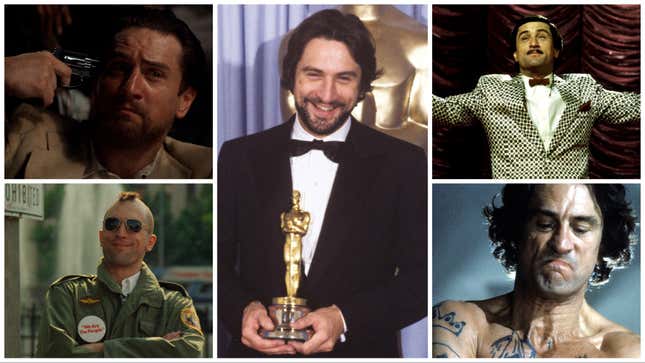 Robert De Niro, who turns 80 on August 17, has spent nearly 60 of those years as a working actor, becoming one of the most respected names in his profession in the process. The New York-born son of a noted abstract expressionist painter, the young De Niro was a serious student of the Method, studying at the Stella Adler Conservatory and Lee Strasberg's Actors Studio. These immersive Method techniques would serve him well over the course of his long acting career, which includes nine films directed by Martin Scorsese (not counting 2015's The Audition which cost $70 million and was only 16 minutes long), of which seven are on this list of his greatest performances. He's been nominated for eight Academy Awards and has won two (Best Actor for Raging Bull and Best Supporting Actor for The Godfather: Part II).
While De Niro has starred in dozens of films over more than half a century, not every project has properly showcased the full extent of his brilliance. But he's proven a consistently titanic on-screen presence, working in a variety of genres and with some of the world's greatest filmmakers, proving time and again why he's considered one of the best actors in cinema history. He can make a mighty impression in a film despite limited screen time (see: Brazil), he can find the perfect line reading to make a small scene into a classic (see: the "you blew it" scene from Cop Land), and he can discover new and fascinating ways to play well-worn character archetypes (see: his autumnal performance as a gangster in The Irishman).
So in honor of De Niro's 80th birthday, we're ranking his finest performances as we await his 10th appearance in a Scorsese film, the October release Killers Of The Flower Moon. Whether De Niro's Killers performance finds a place on our next ranking of his best is yet to be determined. Even if it doesn't, De Niro's place in the cinema firmament is well secured.