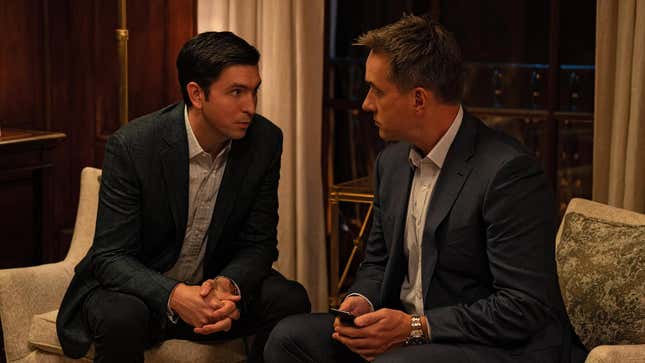 Succession's fourth season has an official release date from HBO, with a juicy teaser to match. Our first full look at season four gives plenty of insight into the next season's arc, mapping out how the characters will move forward following a tense and table-turning season three finale. Let's get into what exactly is going on in the teaser and what we can expect in season four.
The Roy siblings strengthen their alliance
While Kendall (Jeremy Strong), Shiv (Sarah Snook), and Roman (Kieran Culkin) were certainly hit below the belt in the third season finale, they're certainly not giving up their grab for power in season four. In order to take down their father, they must first get him on the phone, via a request sent through text. The stakes are high for three of the Roy children, as Kendall describes it as "a tightrope walk on a straight razor—500-foot reputational drop."
From the looks of the trailer, the trio will not back down easily (despite Gerri's warnings) and don't mind tearing apart their authoritarian father in the process or destroying the pending deal with Lukas Matsson (Alexander Skarsgard). "This is not about getting back at dad, but if it hurts him, that doesn't bother me," former daddy's girl Shiv says.
Tom Wambsgans takes his spot at the top
Matthew Macfadyen's Tom Wambgans ended the third season by stabbing his wife in the back and securing a safe place for his Sporus (Nicholas Braun's Greg) amongst the higher-ups at Waystar-Royco. Now, he's taken his place as Logan's right-hand man, with a say in the plans of the company.
In the teaser, Tom tests his bond with Logan (Brian Cox), asking for reassurance in the face of a marital blowout with Shiv, to which Logan cryptically says, "If we're good, we're good." Even if his marriage with Shiv implodes (as it likely will), at least he's got Greg to share his power with.
A Connor and Willa wedding is on the way
The teaser also sets us up for a Succession royal wedding, between still aspiring politician Connor Roy and his failed playwright Willa Ferreyra (Justine Lupe), as Connor looks to establish himself as someone to be taken seriously. We can bet the wedding episode will be the venue for plenty of pivotal drama (as has been tradition for Succession), as it will likely bring the other Roy siblings face-to-face with their father.
Kendall will return with his usual dramatics
Kendall's always a glutton for punishment, and of course, finds himself giddy at another risky standoff with his father. Yet from the teaser, it looks like this season will not be short on moody and existential moments from Kendall (fit with dramatic flair), as he stumbles into the ocean's waves or angrily tosses speech cards in a dressing room.
Succession will officially return to HBO on March 26.