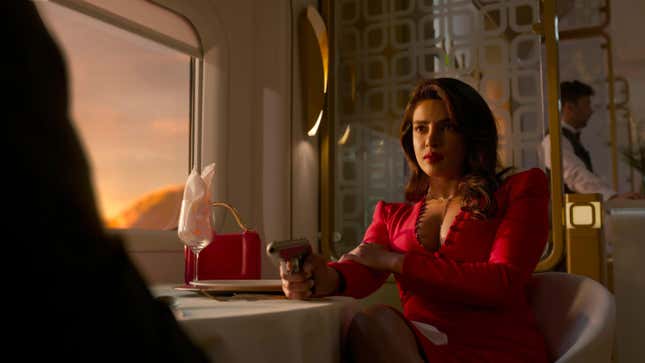 Before it can officially become the second most expensive series ever or even premiere, Joe and Anthony Russo's $200-million globe-trotting, super spy show is getting a second season at Prime Video. Announced in 2018, as the Russos began making massively budgeted direct-to-streaming spy movies, Citadel is an international series with spin-offs in different countries worldwide. Then, like Russos' Avengers sequels, these different Citadel franchises would come together for a CGI blowout, presumably on a flying aircraft carrier.
The first season premieres on April 28 and is on track to become the second most expensive show ever, behind Lord Of The Rings: The Rings Of Power. However, unlike Rings, the costs weren't paying for rights or creating Númenor. Instead, the money reportedly went into extensive reshoots and creative differences between Joe Russo and the show's original showrunner Josh Applebaum, who left the show last December. After his exit, the show underwent a creative overhaul, bringing a new showrunner David Weil from Amazon's Hunters.

It's unclear whether or not the show will still have this international interlocking structure. The first season will have six episodes, all set in the central Citadel universe. Will the second season see Citadel: Dubai, Citadel: Hong Kong, or Citadel: Scottsdale? We do not know, but we think putting the Scottsdale, Arizona, contingent into the universe—in hopes of the Russos opening a Citadel there—is essential.
Priyanka Chopra Jonas and Richard Madden star as Nadia Sinh and Mason Kane, respectively, Jason Bourne-types who don't remember their past but remember all their skills. The first trailer premiered earlier this month and thankfully featured Stanley Tucci playing, who else, Bernard Orlick. Orlick explains to Sihn and Kane that they once worked for an international spy agency, Citadel, which wiped their memories after the group disbanded. It feels a lot like the Russos' last spy thriller, 2022's The Gray Man, the fourth most-watched movie ever on Netflix, according to Netflix. Hard to believe that only nine months ago, all of our conversations turned to The Gray Man. Well, Gray fans, there's a new name to learn: Mason Kane.

[via The Hollywood Reporter]