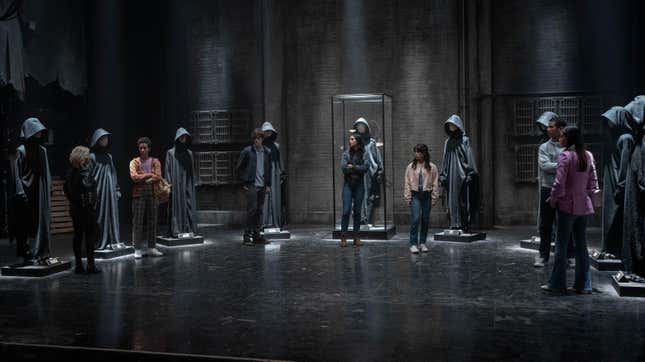 As foreseen, Scream VI has scared up the biggest opening ever for the long-running horror franchise, making $44.5 million in its debut. That was enough to thoroughly trounce every other movie that is currently in U.S. theaters, with last week's winner, Creed III, dropping more than 50 percent and landing in second place. It made $27 million (and has a total of $101 million after two weeks), which is double what Adam Driver's 65 made. The sci-fi dinosaur movie made $12.3 million in its debut, but maybe it will hang on for a long time and make $65 million after... a few months. That would be funny.
Rounding out the top five are Ant-Man And The Wasp: Quantumania and Cocaine Bear, both of which made less than $10 million. Ant-Man will probably hit $200 million next week, unless it completely dies for some reason, but this is only its fourth week in theaters. The only other newcomer on the charts this week was Champions, which opened in seventh with $5 million, followed by Avatar: The Way Of Water, Puss In Boots: The Last Wish, and Operation Fortune: Ruse De Guerre.
The Oscars, which are happening tonight, don't seem to have had much of an impact on any of this, though Everything Everywhere All At Once did get a 70 percent bump from where it was last week (which was nowhere), so that only amounted to $350,000 this weekend. If it takes home every Academy Award, anyone who missed out on seeing before today is going to feel like a real dummy.
The full top 10 list from Box Office Mojo is below, in list form.
Scream VI
Creed III
65
Ant-Man And The Wasp: Quantumania
Cocaine Bear
Jesus Revolution
Champions
Avatar: The Way Of Water
Puss In Boots: The Last Wish
Operation Fortune: Ruse De Guerre