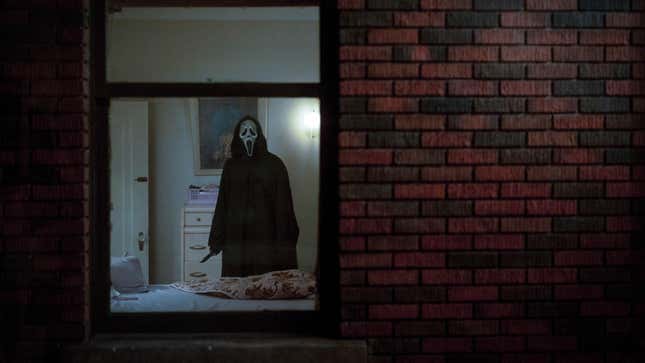 Proving yet again that it's damn hard to go broke while filming people pretending to hit teenagers and college students with knives: This weekend's new horror movie Scream VI is on track to break the franchise's record for an opening weekend at the box office. People reports that the sixth film in the series—which follows after Scream, Scream 2, Scream 3, Scream 4, and, uh, Scream—is set to make $43.5 million in its opening weekend, surpassing the second-best opener, Scream 3, which opened at $34 million back in 2000. (None of these numbers have been adjusted for inflation, by the way, so please keep your grains of salt handy.)
Scream VI's opening will make it an easy lock to win the weekend, with Ghostface handily knocking out Adonis Creed in his third run at theaters. The biggest question, then, becomes whether Scream VI can become the most successful film in its home franchise, period—a record that still sits comfortably with Scream (the first one), which made $173 million total in 1996, despite a fairly slow box office start. (Scream 2 came damn close to matching that number, bringing in $172 million just a year later.) Box office returns for the franchises have been shockingly consistent over the years—Scream 4 is the nadir, coming in at $97.2 million, making it the only installment in the franchise not to break the $100 million mark. (Here's hoping Hayden Panettiere's returning character, Kirby Reed, can break that particular slump.) Last year's Scream was hit with some lingering pandemic lockdown ennui, but still managed to score $137.7 million.
Scream VI stars Melissa Barrera and Jenna Ortega, both survivors of that previous installment; it does not star series mainstay Neve Campbell, who announced she wouldn't be taking part after pay negotiations fell through—although the script does leave open the possibility that Sidney Prescott might someday return to the "getting hunted by murderers" game.