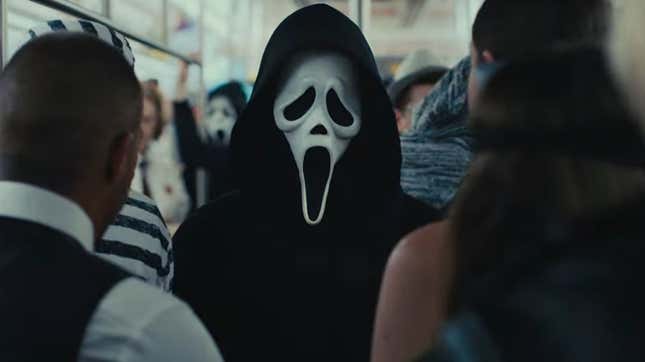 ***WARNING: This review contains spoilers***
Up until the killer's reveal in its third act, Scream VI is one of the franchise's best sequels and the series' most inventive and character-driven entry. The Scream movies, like the Fast And The Furious films, have mostly gotten better (or, at least, more entertaining) with each installment. This follow-up is directed by Matt Bettinelli-Olpin and Tyler Gillett, who were behind 2022's creatively and financially successful Scream. Their latest is another timely and clever exploration of slasher movie tropes—which the witty and violent script by James Vanderbilt and Guy Busick deconstructs like layers of a meta Russian nesting doll. Fueled by a seemingly endless appreciation for how enjoyable it can be to subvert horror conventions and audience expectations, Scream VI is one of the most fun (and funniest) modern horror experiences one can have at a movie theater.
Most sequels that are rushed into production too soon after their preceding installment tend to hit the narrative skids. But like Scream 2 before it, Scream VI survives the accelerated production schedule, something the movie kinda sorta acknowledges, along with Scream 2's development history. The result is a more grounded take on "what would really happen to people if they survived a real-life slasher movie?" After opening with a nail-biter of a teaser that ranks among the franchise's greatest openings, Scream VI catches up with sisters Tara and Sam, the now New York City-based survivors of the previous Scream. Tara (the exceptional Jenna Ortega) refuses to let three horrifying, murder-fueled days in Woodsboro define her college life—she just wants to enjoy Halloween Week festivities on campus—while her estranged older sister Sam (Melissa Barrera, in a movie star-wattage performance) struggles to figure out who she is outside of her traumatic experience while also acting as a helicopter mom to Tara.
Establishing those boundaries, and making new connections (like a secret hunky boyfriend next door, played by Josh Segarra), becomes increasingly hard for Sam when a new Ghostface killer arrives, looking to finish what Jack Quaid's Richie started in the last movie. Some of the franchise's most brutal kills ensue as Sam and Tara—along with fellow Core Four members Mindy (a charismatic Jasmin Savoy-Brown) and Chad (Mason Gooding)—go on the run with a new cast of characters (and potential suspects) to find out who wants them dead and why. They're joined by Gale Weathers (Courteney Cox) and Scream 4's Kirby (Hayden Panettiere), who is now an FBI agent following her near-fatal run-in with one of that fourquel's Ghostfaces.

G/O Media may get a commission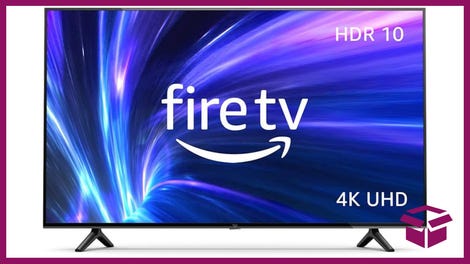 42% Off
Amazon Fire TV 50" 4K Smart TV
Taking inspiration from society's abhorrent current tendency to hurl vitriol at victims on social media, Scream VI is more thematically ambitious than previous Screams. But the movie's reach intermittently falls short of its grasp, as the plot tortures itself in obvious, "we-tried-to-fix-it-in-post" ways to accommodate an underwhelming killer reveal. At a recent press screening, you could feel the room deflate in a "Really? That's where they're going with this?" way once the masks came off and the monologuing started. It feels like such a letdown after the tension of the movie's riveting first half, one populated with such excellent set pieces as a shotgun-wielding Ghostface stalking Sam and Tara in a bodega and Gale getting her first (and very terrifying) phone call from Ghostface.
Also surprising is Kirby's low-energy return and Panettiere's lackluster performance. Kirby is clearly still carrying Scream 4's trauma, which is especially apparent when—in one of the movie's most memorable character beats—she finds herself staring at a trophy case containing the knife that almost killed her. Aside from that scene, and a bit of levity as Kirby and Mindy swap favorite horror movies, there isn't much for Kirby to do other than make fans hope that future sequels find better ways to service her character.
It would seem that another sequel is all but guaranteed, and deservedly so, especially with Scream VI having something no other movie in the series has had: Melissa Barrera front and center. Somewhat underused in 2022's Scream, here she reconciles her character's familial ties to one of the first Scream's killers, Billy Loomis (Skeet Ulrich), and then uses that "killer instinct" to the Core Four's advantage. This is the first time a Scream film has featured someone as dangerous as a Ghostface on the side of good—or, at least, good-adjacent. How our heroes could wield this compelling and complex addition to their arsenal in future sequels holds significant potential, as Scream VI ends in the way all good horror movies should: With fans dying for more.
(Scream VI opens in theaters on March 10.)