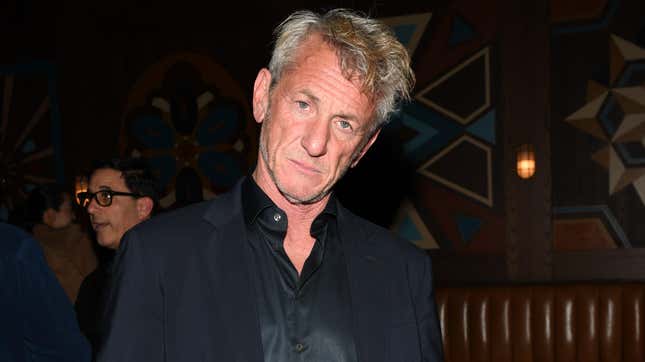 The new Sean Penn profile on Variety could alternately be titled, "A dozen alarming quotes from Sean Penn." The actor is known for being a bit out there, as in out there at El Chapo's drug compound. He brought his typically intense energy to this latest interview, in which he imagines the hypothetical sexual assault of his nemeses' daughters not once but twice. And he gets in a "9/11 would've gone down differently if I was there." And he weighs in on The Slap. What can't he do?
John Stamos wants you to give Lori Loughlin a break, ok?
Here's a list of the most jaw-dropping things Sean Penn said to Variety, from least to most shocking:
5. His first impression of Ukranian comedian-turned-president Volodymyr Zelenskyy: "His brain is fully oxygenated. His eyes are clear and he's warm. I knew I'm either going to feel nothing or I'm going to let myself love him." ("It blew my mind" that Zeleneskyy kept his first meeting with Penn because "There were Chechen kill squads in the streets already," the actor said.)
4. Where he keeps his Oscars: After Will Smith slapped Chris Rock at the Oscars, the very statues themselves were tainted for Penn, who has two. "I thought, well, fuck, you know? I'll give them to Ukraine. They can be melted down to bullets they can shoot at the Russians." He did not follow through on this threat, but did give one to Zelenskyy. "I told him to keep it and bring it to Malibu after all this is over and his country is safe," Penn told the outlet with what was characterized as "a hopeful smile."
3. His opinion on Will Smith: Penn became "furious" remembering that the Oscars turned down an appearance from Zelenskyy ("not light-hearted enough") only to be interrupted by Smith's act of violence. He had a confusing list of hypothetical questions for Smith, who was "fucking good" in King Richard: "So why the fuck did you just spit on yourself and everybody else with this stupid fucking thing? Why did I go to fucking jail for what you just did? And you're still sitting there? Why are you guys standing and applauding his worst moment as a person?"
It's unclear in what sense that Penn "went to jail" over Smith's slap. He also asserted: "This fucking bullshit wouldn't have happened with Zelenskyy. Will Smith would never have left that chair to be part of stupid violence. It never would have happened." Okay… sure!
2. What he would've done as United States President on 9/11: "I'd have let White House counsel know that they are on vacation. I'm not consulting with them. If I have to go to prison, I'll go, but I'm going to kill them," Penn declared, lest he be outdone by Mark Wahlberg. "I'm killing everyone that did this. But only them. And we know where the fuck they are."
1. That weird stuff about other people's daughters: Penn's distaste and distrust for the studios' proposed use of artificial intelligence in the SAG-AFTRA negotiations is reasonable, but his response is, shall we say, not at all proportional. "So you want my scans and voice data and all that. OK, here's what I think is fair: I want your daughter's, because I want to create a virtual replica of her and invite my friends over to do whatever we want in a virtual party right now. Would you please look at the camera and tell me you think that's cool?" No can do, Sean.
Bizarrely, the hypothetical studio head's daughter is not the only daughter in his crosshairs. Paraphrasing one critic who denounced his involvement with Ukraine, Penn said, "'Don't encourage these Ukrainians or support them to win this thing we all say we stand for because you might create problems for us that are nuclear.' It's saying, 'OK, I'll be your bitch. You want my daughter as your sex slave?'" Um, is it though?
So there you have it—and those are the quotes that are fit to publish in the "near three-hour conversation" with Variety. Wishing all the best to Sean Penn's publicist in this difficult time.