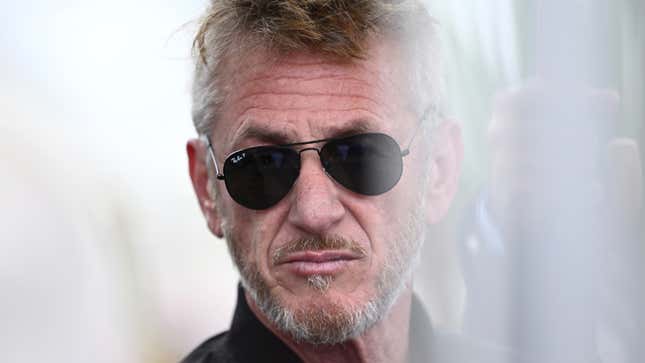 Just as the SAG-AFTRA (The Screen Actors Guild and American Federation of Television and Radio Artists) members prepare to vote on a potential strike, Sean Penn has stalwartly aligned himself with striking writers. At a Friday press conference in support of his new movie Black Flies, which debuted in competition at the Cannes Film Festival this week, Penn said his "full support" is with the Writer's Guild of America (WGA) as they continue to strike, and specifically condemned studios' caginess about enforcing regulations on AI.
Why Christian Bale just can't quit David O. Rusell
"The industry has been upending the writers, actors, and directors for a very, very long time," Penn says (per Variety.) "My full support is with the writers guild. There are a lot of new concepts that are being tossed about including the use of AI. And it just strikes me as human obscenity that there's been a pushback [from the studios] on that."
Penn went on to directly slam the Alliance of Motion Picture and Television Producers (AMPTP), opining that "the first thing we should do in these [strike] conversations is change the [name of the AMPTP] and title them how they behave, which is the bankers guild. It's difficult for so many writers and people in the industry who cannot work." (Although Penn was initially quoted as addressing the Producer's Guild of America [PGA], he later released a statement to Variety clarifying that he "misspoke" and "meant to say AMPTP.")
As the WGA continues to hold the picket line, SAG-AFTRA is not the only guild toying with the idea of a strike as contact renegotiations swiftly approach. The Director's Guild of America (DGA) also currently negotiating a new contract with producers. Both the DGA and SAG-AFTRA's current contracts with the AMPTP expire on June 30; the WGA began striking promptly on May 2, after their contract expired on May 1.