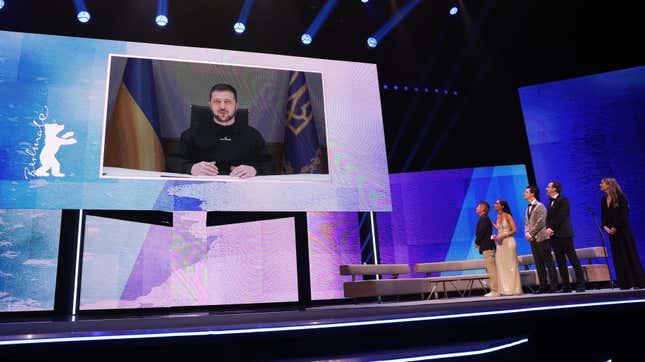 It looks like Ukrainian president Volodymyr Zelenskyy's grand awards show tour is being cut short—again. While the (Paddington!) actor-turned-politician has made a number of remote appearances on other broadcasts over the past two years—including the 2022 Grammys, the year's Golden Globes, the Cannes and Venice film festivals, and more—the Oscars have held firm in their decision to bar him from the show for the second year in a row.
Per Variety, an agent named Mike Simpson—who is involved with Sean Penn's invasion documentary Superpower—made the plea on Zelenskyy's behalf to the Academy but was shut down. (Penn presumably won't threaten to "smelt" his Oscar this time because he left the statuette in Ukraine as a "symbolic silly thing" in November.) Penn did get to make a surprise appearance during this year's Golden Globes to introduce the politician, who proceeded to applaud "the free people of the free world—those who united around the support of the free Ukrainian people" and reassert that "there will be no third world war. It is not a trilogy." (Come on Academy—you're really going to reject a film pun like that?)
While the Academy declined to comment on the situation, Variety reports that sources close to Oscar producer Will Packer say that he has expressed concerns over the fact that Hollywood is only focused on the war in Ukraine (as opposed to other wars currently being ravaged around the globe) because those affected are white. However, it is unclear if this is the direct reason for Zelenskyy's rejection. Last year, the broadcast did include a moment of silence and appeal for donations, but it remains to be seen whether the war will be mentioned at all in this year's telecast.