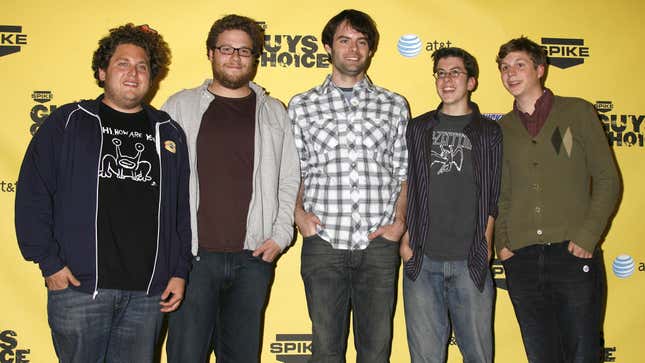 Seth Rogen has good reason to be cocky about his place in Hollywood. He got his start on one of the most beloved high school television series of all time (Freaks And Geeks) and then co-wrote one of the most beloved high school movies of all time (Superbad). He's got plenty of other accomplishments under his belt (including a turn in a Best Picture nominee), but it says a lot about the quality of those projects that he's still asked about them to this day.
That time Tom Cruise tried to pull Seth Rogan and Judd Apatow into Scientology
Referencing his Fabelmans co-star, Rogen tells People in a new interview, "What's crazy is that Gabe LaBelle is like, 19 years old and his and his friends' favorite movie is Superbad. So it never changed for some reason," he says of the movie's lasting legacy. Then he adds a bold claim: "No one's made a good high school movie since then."
Okay, okay, we know Seth Rogen is a comedy writer and an offhand comment shouldn't be held as gospel. But let's put the assertion to the test anyway. Has anyone made a good high school movie since then? Obviously, yes. A trickier question is, has anyone made a high school movie as good since then? There are some strong contenders, like Dope, Edge Of Seventeen, Lady Bird, or even To All The Boys I've Loved Before.
Limiting the category to similarly raunchy, goofy comedies is an even narrower field. Easy A, led by Superbad co-star Emma Stone, is one much-beloved example. Perhaps even more of a spiritual successor to Superbad is Olivia Wilde's Booksmart. We'll give him this, though: horny dirtball teenage boys have probably not had representation of that caliber since Rogen's magnum opus.
The same can probably be said for the stoner outcasts in Freaks And Geeks, but don't expect them to return any time soon. "I don't think anyone would do it. It's so rare that you do something in your career that is actually just viewed as good," Rogen tells People. "I know enough now not to fuck with that, to just let it be good and not try to go revisit it. And just let it exist." Sounds like it's someone else's turn to step up to the plate.