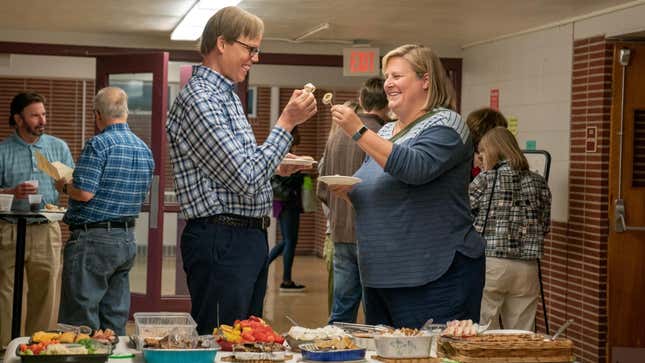 What's it like to be in love? Sam (Bridget Everett) doesn't know exactly. But in the new season of Somebody Somewhere, she's learning to appreciate other kinds of love, and reaching "a new level of intimacy" with her platonic soulmate, Joel (Jeff Hiller). HBO Max's acclaimed dramedy returns on April 23, and the trailer promises more laughter and tears in season two.
Why Robert Rodriguez still loves "Spy Kids"
Last season, Sam's world was rocked by the death of her sister. Now, she's trying to build a life in her hometown in Kansas while living with her best friend. What Joel describes as "solely a financial arrangement" is clearly a source of joy and support for them both, something Sam doesn't have outside their home (as others are quick to remind her). "You're the only person I know that would do anything for me," she tells him, "Like stand guard for me on the side of the road when I gotta take a tee-tee."
But love doesn't just apply to people; it applies to passions, too. For Sam, following her passion leads her to approach her old vocal coach to pick up where they left off. "Grappling with loss and acceptance, singing is Sam's saving grace and leads her on a journey to discover herself and a community of outsiders who don't fit in but don't give up, showing that finding your people, and finding your voice, is possible. Anywhere. Somewhere," reads the season's synopsis from HBO Max.
In addition to Everett and Hiller, Somebody Somewhere also stars Mary Catherine Garrison, Jane Brody, Murray Hill, Mercedes White, Kailey Albus, and Meighan Gerachis and newcomers Tim Bagley, Jennifer Mudge, and Barbara Robertson.