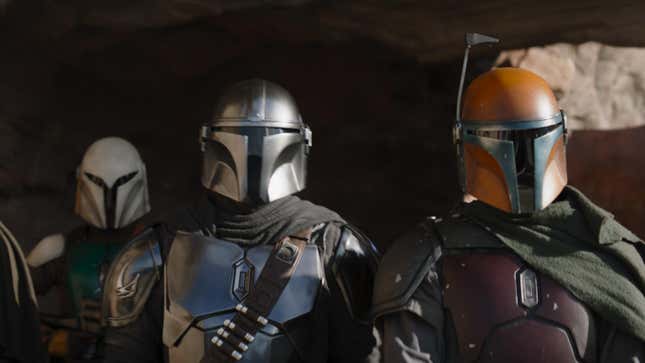 When The Mandalorian premiered on Disney+ in 2019, not long before Star Wars: The Rise Of Skywalker came out in theaters, the most exciting thing about it for longtime Star Wars fans was that it didn't feel like anything else Disney had made since taking over the franchise. Timeline-wise, it bridged the gap between George Lucas' original trilogy and J.J. Abrams' Star Wars: The Force Awakens, literally connecting the old movies and the new movies, and yet it was very clearly and slavishly dedicated just to the old movies.

George Clooney's Batman costume goes up for auction
There was no First Order, no crossguard lightsaber, no ball droids; there was just a guy in a helmet who looked like Boba Fett, junky classic Stormtroopers, and a puppet character who looked like old puppet Yoda. Pair that with the show's obvious influences from Westerns and samurai movies, and it was more Star Wars than a lot of Star Wars movies even have been.
But by the end of The Mandalorian's second season, it had pretty much burned through all of the original Star Wars stuff that was worth burning through. Actual Boba Fett had stopped by. The destruction of Alderaan was mentioned. The show went to Tatooine. And, of course, a de-aged Mark Hamill showed up as full-on Jedi Knight Luke Skywalker. How do you top that? You don't. You move on from it, you take the win, and you go in another direction.
That other direction is the Star Wars prequels and cartoons like
Clone Wars and Star Wars: Rebels—anything that is Star Wars except for the original trilogy, in other words—which have now become the main reference point for Star Wars spin-offs like The Mandalorian. They're no longer trying to recreate the originals; they're trying to reclaim or revitalize ideas and concepts that were introduced in the prequels and the other spin-offs. The Book Of Boba Fett starred Attack Of The Clones' Temuera Morrison. Obi-Wan Kenobi was a direct sequel to Revenge Of The Sith. Andor was a prequel to Rogue One, and while that movie was also all about echoing the original Star Wars, Andor is doing more of its own thing.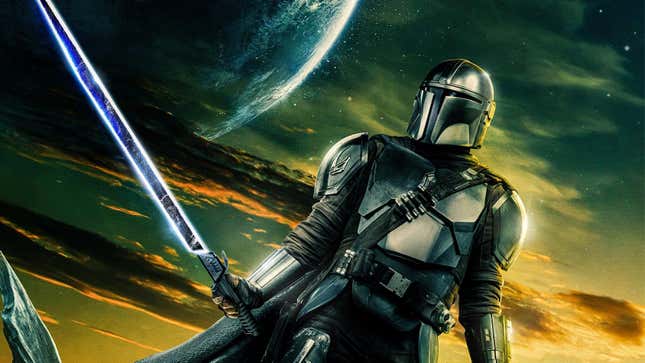 Then there's The Mandalorian, which has spent its entire third season (which wrapped up on April 19) hyping Katee Sackhoff's Bo-Katan, a character who originated in the Clone Wars cartoon and effectively has no connection whatsoever to any Star Wars movie—original trilogy or otherwise. It's exclusively paying off a character arc that viewers will only know if they've followed Star Wars cartoons. The movies will not help at all. Same with the upcoming Ahsoka series, which is a spin-off of The Mandalorian and a follow-up to both Clone Wars and Rebels that revolves around a character who is very important to the Star Wars canon but who is never mentioned in any movie.
Both in terms of the literal stories they're telling and the kinds of stories they're telling, the original trilogy is no longer really relevant. But we're also rapidly approaching a point when even the prequels and the other spin-offs will no longer be relevant either. Once they've paid off everything fans want from the old movies, and then they've paid off everything from the prequels, and then they've paid off everything from Clone Wars, what will be left? Where does Star Wars go from here?
At this year's Star Wars Celebration, they didn't announce any new movies or shows that fill in specific gaps in the old timeline the way Rogue One and Solo were meant to. Instead, two of the new movies they announced were a post-sequels sequel about Daisy Ridley's Rey and a tie-in movie that loops together The Mandalorian and Ahsoka and everything else Disney+ has been doing with Star Wars for an Avengers-style crossover. But the third movie announced at Celebration does have the potential to be a relatively new story, with James Mangold directing a project about the first Jedi to ever use the Force. Of course, it's still pretty far off, and Disney has canceled (or quietly abandoned) more Star Wars movies at this point than it has actually released, so it might not even ever happen.
As it stands now, the Star Wars fan-service machine—which gave us The Mandalorian in the first place in an attempt to be more like the old movies—has caught up to Disney's sequels and The Mandalorian itself. Now they're making movies and shows that are trying to be like the new movies and the new shows. The star-snake is swallowing its own wars-tail, and it won't be long before there's literally nothing left.