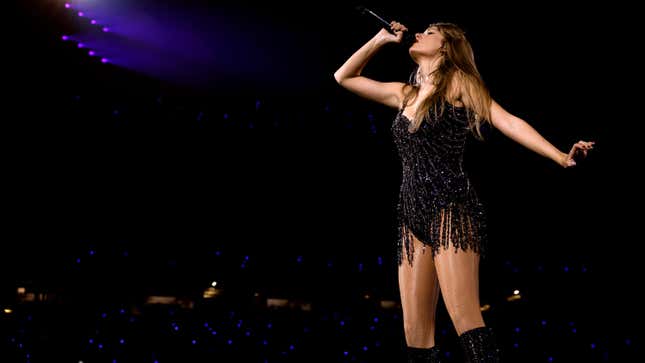 Last night was a big one over in Swiftie-ville (not Swift City—that's just Glendale, Arizona now). As you probably already know, as someone with either an internet connection and/or the Starbucks app, Swift announced her version of 1989 last night to celebrate the final U.S. performance of the Eras Tour (for now). It was the ninth day of the eighth month after all, a classically Swiftian date many fans, and at least one member of our staff, saw coming from a mile off.
Taylor Swift takes down Spider-Man
Get ready, Swifties, haters, and everyone in between: 1989 (Taylor's Version) is coming for Spotify playlists and Billboard charts on October 27—the 9-year anniversary of the original album's release. This will be the artist's fourth re-record—her "most FAVORITE re-record [she's] ever done" per an X post—and seventh full-length studio album in just four years. This is, of course, an insane feat—almost as bananas as the pop star's ability to top charts and even generate Grammy buzz entire years after a song's initial release.
But while the unbelievable peaks the "August" singer is achieving right now may be hard to fully comprehend, even for the most dedicated Swifties out there, what they aren't is all that shocking. In TaylorLand, as in BarbieLand, it really does seem like every day is a big day—yesterday and tomorrow and every day from now until forever. Think back on just this tour (we need to set a parameter somehow): There was her surprise reunion with ex-beau Taylor Lautner. Ice Spice's little cameo. The Speak Now TV announcement was just two months ago! But while attendees of every show except last night's can debate amongst themselves over who got the best surprise songs, 8/9's audience got something few else did: a real, genuine shock to the Swiftieverse.
Taylor Swift, famously, does not like to forgive and certainly doesn't forget. When someone is out of her life—like, say, ex-BFF and Gaylor fixation Karlie Kloss (we'll let you figure that one out for yourself if you don't already know)—they're usually out of her life for good. So, naturally, fans were more than a little shaken up when Karlie popped up in the nosebleeds, allegedly bopping along to "Don't Blame Me," no less. Whether or not the bad blood between the two has actually been settled or this is just the unmissable Hollywood see-and-be-seen event of the century is unclear. What is apparent is that as this era of the tour comes to a close, Taylor (and her fans) really are living all of their wildest dreams.