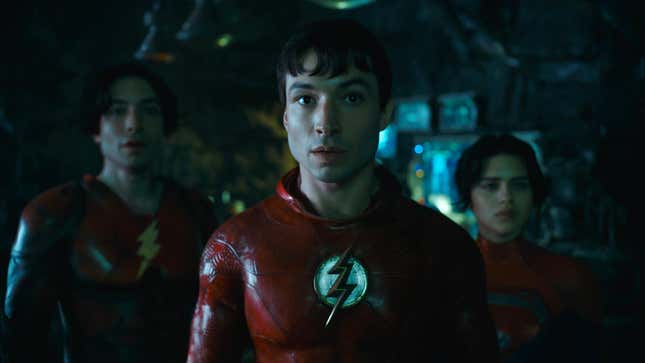 Warner Bros. has finally released the long-awaited trailer for its The Flash movie, starring Ezra Miller as... two different versions of The Flash. One seems to be the version from the Snyderverse movies and the other is... a different one. We don't really know what's up yet, but if you've read Flashpoint, you can probably make some assumptions—especially since the rest of the movie is also taking some obvious nods from that storyline.
A Quiet Place: Part II's Millicent Simmonds thinks she'd be a goner if aliens attacked
But in addition to the two Barry Allens, this trailer also has two Bruce Waynes, one played by the Snyderverse's Ben Affleck and one played by Michael Keaton from Tim Burton's 1989 Batman. The Snyder obsessives will probably love seeing Affleck's Bruce (looking far less over-muscled in his streetwear than he did in the actual Snyder movies), but c'mon, Keaton's Batman owns this trailer. It's a cheesy fan-service moment, but dragging out his big line for a whole mile is absolutely a ton of fun. The kind of winky, self-aware joke that his Batman was so good at it.
But in addition to two Barry Allens and two Bruce Waynes, we also have a surprising big villain: Michael Shannon's Zod from Man Of Steel. Apparently, the Snyder Barry went back in time to save his mom's life (Flash fans should be curious to know who killed her in this universe), which broke the world in a way that caused there to be no super-people left when Zod shows up to destroy Earth... or at least no super-men. Enter Sasha Calle as Kara Zor-El, a.k.a Supergirl, who gets to do some cool slow-motion punching this trailer.
It seems worryingly telling that the least interesting thing going on here is Miller's Barry Allen, and that's especially worrying because there will apparently be two of him hanging around for the whole movie. Also, there's that whole Speed Force-powered elephant zipping around the room in the form of the criminal accusations that have followed Miller for so long now. The movie is going to have to be fun enough to make you forget all about that, which is a tall order.
G/O Media may get a commission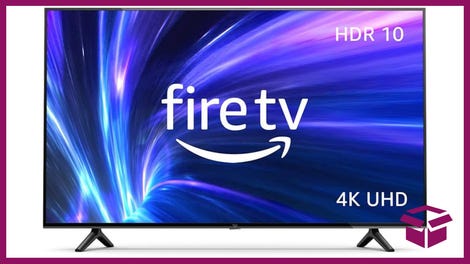 42% Off
Amazon Fire TV 50" 4K Smart TV
Either way, It director Andy Muschietti's The Flash is in theaters on June 16.