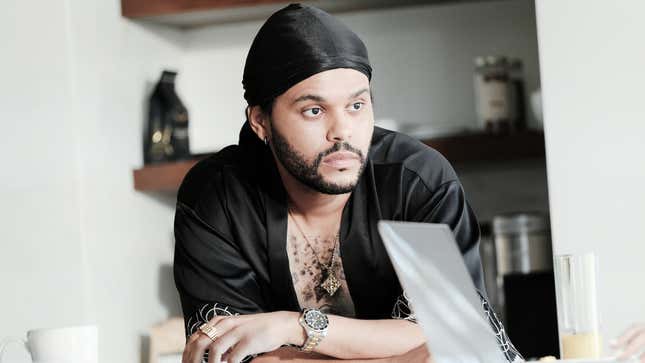 One of The Idol's most striking scenes (in a rare positive way) arrives in episode two. Jocelyn (Lily-Rose Depp) is propped up on stage in a skimpy fuchsia outfit, forcing her way through a music-video shoot for a song she loathes. Her famous, glamorous outside world is nothing compared to the lonely nightmare within. She is shaken by grief after her abusive mother's death and is visibly falling apart. And her team still insists she that push through the pain—literally, because her heels are making her bleed—to give the fans what they seemingly desire: their favorite singer grooving and grinding excessively to a track called "World Class Sinner" in an effort to rebrand her as the next nasty pop queen.
The feud between Howard Stern and the world's smuggest man, Bill Maher, has come to a tentative ceasefire
It's a moment that speaks to The Idol's lost potential. What is the relationship between a young superstar like Jocelyn and her fandom as she seeks to reclaim her image after a devastating loss and nervous breakdown? Who drives and manipulates that dynamic for her fame and ticket sales? It's neither Jocelyn nor her passionate followers; instead it's the crisis team buzzing around her, played by a dizzying array of talented actors like Rachel Sennott, Da'Vine Joy Randolph, Hank Azaria (despite that horrendous accent), Jane Adams, Troye Sivan, and Dan Levy.
Co-created by Sam Levinson, Abel "The Weeknd" Tesfaye, and Reza Fahim, the drama is briefly fascinating when Jocelyn's PR agent, co-managers, publicist, label executive, and devoted assistant take over. They're often clumsy and catty while fighting to ensure her relevance with the public, embellishing the state of her mental health to a Vanity Fair reporter (who is given unreal, unprecedented access), figuring out how to deal with a racy viral photo, and motivating her to write new songs. It's a weird but undeniably gripping look at the music industry's inner workings. Too bad, then, that we only get glimpses into this world because all that promise collapses into an unwatchable mess once The Weeknd comes onscreen, which is, of course, is far too often.
Look, The Idol was always going to be a challenging watch. It premiered in June with too much baggage—reports of an unhealthy on-set environment, Levinson switching focus to an extreme male gaze, director Amy Siemetz's exit, The Weeknd's careless dismissal of a damning Rolling Stone report, and abysmal early reviews out of Cannes. It was also following in HBO's Sunday night time slot after the network wrapped seasons of its acclaimed Succession, Barry, and Somebody Somewhere. The only saving grace would be if it was narratively rich, but The Idol quickly establishes it's more interested in the tediousness of a character named Tedros instead.
Even if the team's damning response to the alleged news of The Idol devolving into torture porn didn't exist, the show has no qualitative legs to stand on. And that's mostly thanks to The Weeknd's laborious, cringeworthy output as Tedros. Four episodes in—season one wraps with episode five on July 2—The Idol is only superficially provocative and incendiary while depicting Tedros' influence over Jocelyn. A club owner, talent scout, and cult leader, he's supposed to evoke devotion and fear. But Tesfaye's bland, awkward acting captures neither of those things. He has a following of aspiring artists, like Suzanna Son's Chloe and Moses Sumney's Izaak, but The Weeknd has no command over the material, and he's unable to sell any of the characteristics he needs to. He scurries in and out of a scene, rat tail intact, with an unearned air of superiority. And unfortunately, the weak script matches his rhythm. Jocelyn says in the premiere that she liked Tedros' "rapey vibe." If you're on Twitter or TikTok, you've seen a barrage of clips that will make you want to wash your eyeballs.
It's a shame, as there are punchy performances on the show—but none of those characters are ever fully realized. Episode four's best moment features scene-stealer Randolph and Son, but their quick interaction goes nowhere, with any juice the moment had evaporating as soon as The Weeknd enters the frame. And then there are those poorly staged sex scenes. The Weeknd has claimed that they're purposely bad, but that's a shoddy cop-out for what amounts to depictions of sexual assault. And even if they were bad on purpose, what's the intent? The show can't seem to understand how to use kink for character-driven arcs; it's for shock value and nothing more.
That same note could be applied to all things The Idol and The Weeknd. Tedros' big bad wolf persona doesn't register. It's vacuous, whether he's jolting Sivan's Xander with a shock collar or beating Jocelyn with a hairbrush like her mother did to "inspire her." What a load of toxic bullshit. It's understandable why HBO banked on a successful and talented musician like The Weeknd teaming up with Euphoria's Levinson. They were expecting another triumph in the vein of the Zendaya-led teen drama, which at least has substance. But The Idol doesn't have any. It's just painfully dull and dangerously toxic. That, of course, could be remedied in the season finale—hey, Tedros could very well be arrested or be killed off—allowing the show's more fascinating fragments room to grow. Here's hoping.