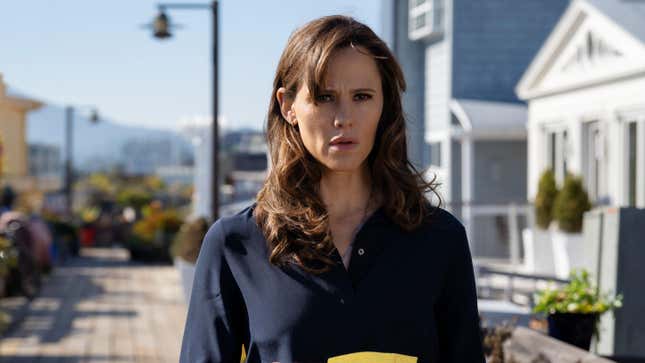 Most television shows, especially suspenseful limited dramas, are usually aggressively fine. That is, they're highly watchable even if there's nothing particularly remarkable about the writing, and that's okay. Not everything will be a breakout hit like The White Lotus or Big Little Lies, inevitably finding its way into a second season. For the most part, TV thrillers live up to their genre if they're engaging enough to keep you going. Enter: The Last Thing He Told Me. The Apple TV+ miniseries, which premieres April 14, isn't overly memorable but delivers an emotional narrative in seven tightly packaged episodes (some runtimes are graciously less than 40 minutes). And it works as well as it does primarily because of the leading star.
Aisha Tyler on "Criminal Minds: Evolution," "Archer," and more
Jennifer Garner returns to her small screen action roots more than 15 years after Alias wrapped. TLTHTM isn't nearly as kickass, addictive, or entertaining as her five-season ABC sci-fi spy drama. However, it's still a worthy vehicle for Garner to prove her mettle. She's the glue that holds the show together, effortlessly navigating her character's tumultuous journey to find the truth. She gives a commendably restrained performance as Hannah, who finds out her marriage might've been a big fat sham. Garner, who also had a terrific comedic turn recently in the Party Down revival, makes TLTHTM worth the investment.
Based on Laura Dave's book of the same name, TLTHTM doesn't stray far from its source material. Garner's Hannah is a gentle woodturning artist whose husband, Owen Michaels (Nikolaj Coster-Waldau), suddenly disappears. He leaves her with only a note that says, "Protect her." The her he's referring to is his child, Hannah's rebellious step-daughter Bailey (Angourie Rice), who isn't a fan of her father's new-ish wife. (Owen and Hannah celebrate their 14-month anniversary—please let that not be a real thing—when TLTHTM begins.)
The show never digs into why Bailey disapproves of Hannah, who is genuinely lovely, except for pent-up teenage angst. It leaves Rice with a mostly one-note character that falls into the annoying kid trope made famous by 24 and Homeland, among others. Thankfully, Rice is as dedicated as her co-star to lifting TLTHTM's middling script. After establishing her skills in HBO's Mare Of Easttown (another excellent thriller that miraculously wasn't renewed) and her Black Mirror episode, she finds depth even as the show limits Bailey from being multi-dimensional in the first half.
Hannah and Bailey (the latter also receives a mysterious note and a bag full of cash from her dad) spend most of the time trying to figure out what happened to Owen. Why would a seemingly loving man uproot his life without warning? It doesn't help that the FBI is investigating his software startup, his boss is being arrested, and the U.S. Marshal Service is hunting Owen down. Hannah gets help on the case from her journalist BFF, Jules (Aisha Tyler), and lawyer ex, Jake (Geoff Stults). Aren't their professions terribly convenient?
The show initially develops intriguing threads that don't fully deliver on their promise. The answers aren't half as riveting as the script (or book) imagines. On the contrary, the dawdling reveals often land poorly or predictably. It's partly because the supporting cast, including Game Of Thrones' Coster-Waldau, is underused or unexceptional, especially in any seemingly villainous roles. TLTHTM is all tell, no show for any threat Hannah and Bailey might face, which means there's no real sense of urgency or foreboding.
Instead, TLTHTM is best when it focuses on the duo's unexpected bond, which transforms from being on shaky ground to unshakable over the course of their four-day investigation. They travel from San Francisco to Austin on a genuinely ridiculous hunch to learn more about Owen's history. Soon enough, they discover he's lied to them about almost everything. They start piecing together the puzzle about Bailey's mother's death several years ago and if their murky family background ties into Owen's decisions in the present day.
Hannah and Bailey's relationship anchors TLTHTM. The actors sell their characters' complicated and tense dynamics. It's the only reason the finale's heartfelt conclusion leaves a momentous impact. The Last Thing He Told Me isn't anything to write home about, but neither is it a total waste of time. Just don't—with the exception of Garner's turn, perhaps—expect fireworks.
---
The Last Thing He Told Me premieres April 14 on Apple TV+.