Although I would surmise that the actual proportion of people who have been stuck in an elevator is probably fairly low, it's a common occurrence on TV. It's one of those sitcom go-tos to force certain characters to face each other or talk to each other (Grace And Frankie used it just last season). For The Mindy Project, Mindy getting stuck the very first episode with Tom (Bill Hader) kicked off their relationship. In this episode, the situation compels Mindy and Danny to open up to each other. But not quite enough, it seems.
Because, also falling under the sitcom trope category: Even trapped in an elevator with Mindy for several hours, Danny is still unable to open his mouth and tell her that he's getting married, even after the wedding invitation is already in the mail. Everyone knows that the mailing of the wedding invitations is the point of no return. While this obviously helps lead this season to its inevitable romantic cliffhanger, it makes no sense in the actual world. Mindy's bound to find out eventually, and when she does, she'll be devastated. Possibly enough to swing her back toward Jody, the man who inappropriately has purchased her an entire apartment?
Mindy as a mess is always a delight, whether she's buying everything on iTunes while asleep or bedtime reading to Leo off of the Bagel Bites package. After a lot of discussion about Mindy's lack of girlfriends, it's fun to see her plan a girl trip with Cristin Milioti and Eliza Coupe. But it's even better to see Mindy and Danny depict all the aspects of their relationship in a single episode. The support when Mindy's falling apart at the beginning, then the bickering in front of the Quaker headmaster, then the storytelling in the elevator. The slight smile on Danny's face when he ironically agrees with Mindy that she's like a "shy, pretty nun" sums up everything about them; I know I've harped on this before, but their chemistry is palpable. It's so effective, it makes it hard to see Mindy with anyone else, even if Danny does something boneheaded like mailing out a wedding invitation (or, deciding to get married so quickly in the first place). So the horror on his face after he says "I love you" is understandable, as well as maddening.
Not as understandable, but just as maddening: Jody taking it upon himself to throw out Mindy's staircase and providing for her, "because it's time that someone takes care of you for a change." From his Southern Gothic roots ("It only took one night for Father to wall Mother up in the attic"), he's probably viewing it as a romanic gesture, but in actuality, it's a bit overbearing and commandeering.
G/O Media may get a commission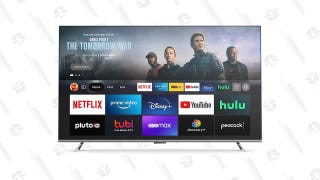 Save 46%
Fire TV 55" Omni Series 4K UHD Smart TV
When people break up, it's usually for a good reason. Danny's crack about how many jobs Mindy has at the headmaster's office shows that he's still not appreciative of the variety of ways she's trying to craft her career. Jody's one advantage over Danny at this point is that he is supportive of all her endeavors, as she even realizes, "in a way I'm not used to." The purchase of the apartment is a bit over the top, but consistent with what Jody brings to the table. If The Mindy Project is trying hard to make the Jody thing happen, this effort may help his case. But I'm still not quite sure that it's enough. And, as Mindy and Danny both declare this episode, they love each other still. But is that enough?
I've written earlier today about how the Danny situation was a tough hurdle for this Mindy season to get over. The jump to Hulu meant a bit more freedom, as well as a longer run (26 episodes!), which is a lot for any show to tackle. Like all seasons, it had its high and low points, but when we look back at Leo's birth (complete with excellent Deslaurier natural-birthing commercial), Joseph Gordon-Levitt and Adam Pally's delightful guest spots, and Mindy's various dating escapades, this season obviously tried its hardest to make the most of The Mindy Project. With less Danny time, it helped to see the supporting staff step up, especially Ed Weeks as Jeremy, and Xosha Roquemore as Tamra (she even pulled off those crop-top scrubs). And I enjoyed Mindy's various explorations of motherhood as much as I once loved the will-they/won't-they struggles on this series. Season five has been secured, as well as Danny's now-recurring status. As the show continues to navigate Mindy's relationship channels, I will always continue to watch, for the absurdist asides and laugh-out-loud one-liners, and an endearing cast of characters that even rivals the one Kaling started out with on The Office. The Mindy Project appears to be one of Hulu's most popular, and I keep hoping it can find a bigger audience, as one of the most enjoyable sitcoms out right now.
Season grade/finale grade: B+
Stray observations
Mindy's best outfit: That diagonal striped shift in her office.
Mindy's worst outfit: The shoes were nice, but that floral jacket was straight out of the mother-of-the-bride closet. The bow-tied dress underneath wasn't much better, like a country club refugee.

As mentioned above, To commemorate the end of this Mindy Project season, I have posted a TV Club 10 about the show. I don't know what season five will bring for The Mindy Project, but thank you all so much for reading these reviews; it's been a lot of fun. Please join me over on UnREAL for the rest of the summer!