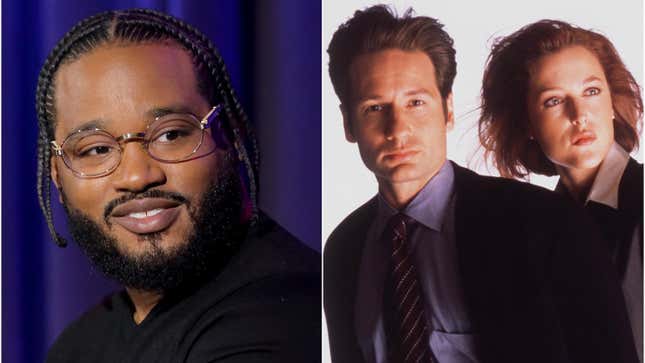 Now here's something we want to believe in: The X-Files may be coming back, and creator Chris Carter says he's passing the baton to none other than Ryan Coogler to develop it. The last time the FBI's spookiest division graced our screens was in 2018 during FOX's two-season revival, wherein Mulder (David Duchovny) and Scully (Gillian Anderson) finally closed the chapter on the mystery of their long-lost son William. Now, Carter says a brand new version of his beloved sci-fi series is in the works.
Sam Jay on "Black Jeopardy," Stand up comedy and more
Carter dropped this major bombshell during a podcast interview for On The Coast With Gloria Macarenko, commemorating 30 years since the series began filming in Vancouver, Canada. "We're so steeped in conspiracies now. The X-Files dealt with a central conspiracy, but now the world is so full of conspiracies that I think it would be a different show," he reflected about what the series might look like today. Then he casually broke the major news: "Actually, I just spoke to a young man, Ryan Coogler, who is going to remount The X-Files with a diverse cast. So he's got his work cut out for him, because we covered so much territory."
The truth of the matter is that, although the original series did cover a lot in its 11 seasons, the X-Files formula is truly timeless. We know this because it's been repeated time and again in the years since. From Bones to Fringe to Supernatural, every skeptic-believer pairing and paranoid government conspiracy and monster-of-the-week procedural has a little bit of X-Files DNA. (This is to say nothing of the fact that the show's writers' room is still shaping television as we know it, including but not limited to the works of Vince Gilligan.) These homages have frequently been successful, so why shouldn't it work again with the real thing?
A certain segment of the population is sure to read "diverse X-Files" as "woke X-Files" and wonder why the powers that be are changing the race of another redhead. Truthfully, though, the series lends itself perfectly to a brand-new revival. Rather than rebooting the series from scratch, a new generation of agents could be assigned to investigate X-Files, leaving the door open for Duchovny and Anderson to appear in whatever capacity they choose. Surely, the fact that the world is even further steeped in conspiracies makes the current era all the riper for X-Filing. One can only hope that the truth is still out there, somewhere.