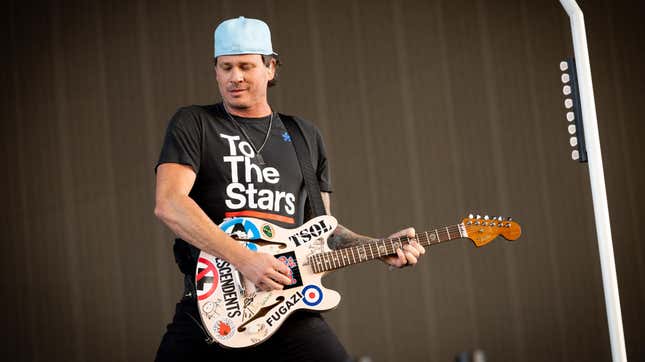 Tom DeLonge may just go down in history as the only person to write a punk song about loving aliens in their 20s (somewhat common) and then actually become an integral part of one of NASA's most significant disclosures to date two decades later (far, far less common).
5 more essential punk rock documentaries
While a number of us are cosplaying the dog in a burning house meme regarding yesterday's whole alien reveal, the Blink-182 founding member and long-time UFO truther is taking a victory lap. For anyone who missed it, former Air Force officer David Grusch testified under oath yesterday that the U.S. had recovered "nonhuman biologics" along with crashed spacecraft in the Congressional UFO hearing. Yay! Cool! Everything is fine!
But DeLonge already knew this (and has since at least 1999, if the song "Aliens Exist" is to be believed). In 2015, the singer famously left Blink-182 to pursue E.T. hunting full-time, a gambit that paid off immeasurably, with his name being forever linked to three of the Pentagon's first declassified UFO clips back in 2020. DeLonge had initially leaked the videos with To The Stars Academy of Arts & Sciences (TTSAAS), an organization he founded with ex-government employees, scientists, aerospace engineers, and other creatives to support alien research.
Now that the hard part is over, it's time for Blink-182 to do what they've always done best: be loud and have fun. Per Entertainment Weekly, DeLonge had already been using the band's current reunion tour as a bit of an "I told you so" lap, and his bandmates—Mark Hoppus and Travis Barker—have been more than happy to sit back and let him have his moment. Before launching into the now-essential track "Aliens Exist" at each show, either DeLonge or Hoppus declare that "Tom was right" before inflatable little green men descend on the crowd.
Yesterday, DeLonge also celebrated the hearings with an Instagram post shouting out the whistle-blowers who testified—Ryan Graves, David Fravor, and David Grusch—who he called "HEROES."
"I am so proud of the three witnesses today that blew the lid off the UFO secrecy that has been intact for decades," he said. He also mentioned a shout-out he got at the hearing, before thanking everyone else at To The Stars who helped make it happen.
So, as some of us descend into existential angst over our place in the universe and what this all means for the future of the human race, we can take solace in one small thing: Tom DeLonge is out there somewhere, having a blast.