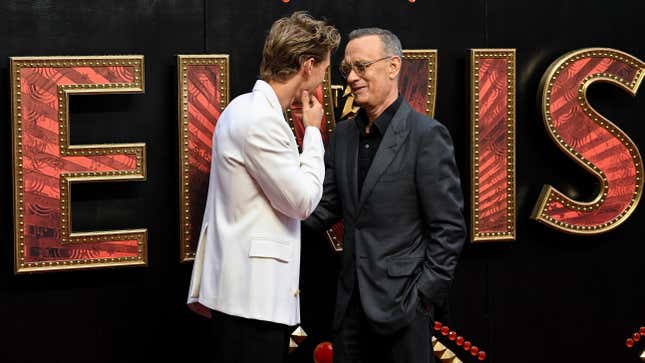 Austin Butler's commitment to Elvis was visible in every frame of Elvis, a movie with a heck of a lot of frames. From his time thinking about his whole life before he went on stage to that mic swallowing to his exquisite final performance, Butler's interpretation of Elvis was deeply realized and physically and emotionally demanding. Tom Hanks, a man who once played opposite a volleyball on a desert island, knows a thing or two about the toll such commitment has on an actor's mental health. So, he decided to give Austin Butler a job.
Tom Hanks knows he's made some bad movies
In an interview with The Times Of London, Butler said that Hanks recognized what Butler was going through and advised him to "go straight into something else" for mental health reasons. Hanks told Butler, "If you just jump off the train, you might have emotional whiplash," before telling the Oscar nominee, "You know, I've got this thing I'm producing." The thing was, get this, an Apple TV+ World War II miniseries called Masters Of The Air. It's the long-awaited follow-up to Band Of Brothers and seems like an intense train to jump onto. Still, we like to imagine that Hanks always has a World War II epic in his back pocket in case a young actor needs help.
In 2022, Butler told The L.A. Times that he thought he might slip into a "major depression" after Elvis wrapped. His director, Baz Luhrman, agreed with Hanks and suggested Butler sign on to a new project, except he didn't have a WWII drama to offer. In addition to Masters Of The Air, Butler's Dune debut is coming this fall when he plays the extremely pale Feyd-Rautha Harkonnen in Dune: Part Two.