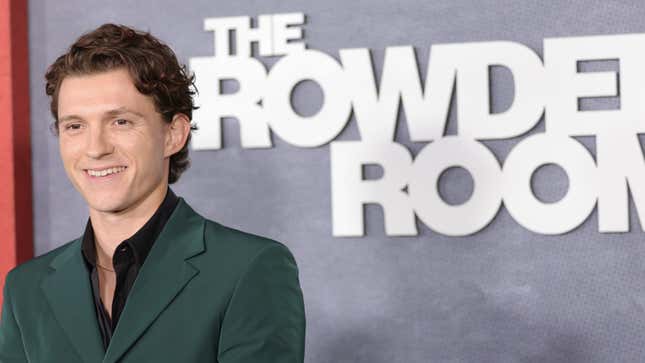 Getting inside the mind of a twisted criminal really did a number on Tom Holland. Doing press for his new Apple TV+ series The Crowded Room (also starring Emmy Rossum and Amanda Seyfried), Holland has opened up about the intense toll the project took on his mental health. Holland plays Danny Sullivan, a character based on serial rapist Billy Milligan.
Holland admits the shoot was "a tough time" in a new interview with Extra. "We were exploring certain emotions that I have definitely never experienced before. And then on top of that, being a producer, dealing with the day-to-day problems that come with any film set, just added that extra level of pressure." While the Spider-Man star is "no stranger to hard work," he says that "the show did break me. There did come a time where I needed a break and disappeared and went to Mexico for a week and had time on a beach and laid low. I'm now taking a year off, and that is a result of how difficult this show was."
Holland recently told Entertainment Weekly that playing Danny led to a "bit of a meltdown" in his personal life "unlike anything I've ever experienced before." The actor shared, "Learning about mental health and the power of it, and speaking to psychiatrists about Danny and Billy's struggles, has been something that has been so informative to my own life," additionally revealing that he has been sober for over a year.
It sounds like a pretty profound impact for a series that is getting less-than-stellar reviews. The Hollywood Reporter called it an "overlong sob story." The Guardian says it "drags on and on (and on)." The show's conclusions are "designed to legitimize real-world bullshit via disingenuous fiction," writes The Daily Beast. And "The mysteries presented at the story's outset are so immediately evident and written in such a heavy-handed, winky manner that one will likely forget any of this is supposed to be a mystery at all," Emma Keates writes in The A.V. Club's C+ review. "It's not that these topics aren't handled with the care and sensitivity they deserve. They are. It's just that they aren't written particularly well, nor does the show really have anything new or interesting to say about them."
Nevertheless, Holland tells Extra, "I am excited to see how it turns out. I feel like our hard work wasn't in vain." Hey, if it helps one person (that person being the show's producer and star), then it was all worth it, right?