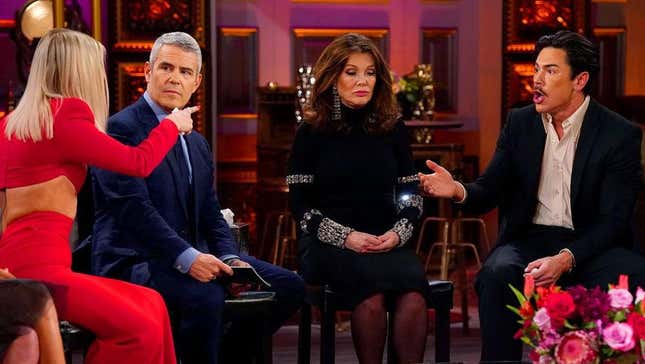 We're knee-deep in the thick of Vanderpump Rules' finale trilogy, the most anticipated and contentious of the show's decade-long existence. While the show has had several firsts this year, including a restraining order that kept persona non-grata Raquel "Rachel" Leviss and Scheana Shay separated for the first episode, a fight between Tom "Scandoval" Sandoval and producer Patrick McDonald stands as one of the most unusual moments of the show's tenure.
Food Network host Jonathan Bennett dishes on "Halloween Wars"
Vanderpump Rules has long operated in its own universe. Like professional wrestling or most Hollywood movies, the show has long resisted its big Hills-esque reveal, showing off all the cameras, producers, writers, and sound people that surround the cast. Aside from cast member Lisa Vanderpump, producers rarely step in, even when the cast is violent. There are exceptions. Following a particularly heated fight between Jax and Brittany in season eight, a chyron revealed producers' concern for Brittany's safety. It stated that the production offered to stay with her for the evening, fearing Jax might harm his wife.
That was an extreme example—though viewers probably appreciated it. However, Sandoval's desire to speak off-camera with Leviss at last night's reunion triggered another intervention. When he entered Leviss' trailer, he asked producers if he and she could have a "for-real break where [they're] not, like, being filmed." Unfortunately, according to producer Patrick McDonald, making his Vanderpump Rules on-camera debut, they must film if they are together. "Cameras are up if anyone's together," McDonald said, laying out rules for production that have never been uttered on screen. "You can have time if you need time to yourself," the producer told Sandoval, encouraging him to take lunch. "It's part of what it is."
"I'm taking my mic off," Sandoval responded.
"All of them, eating lunch, they're filming that," McDonald said, referring to the rest of the cast Sandoval alienated himself from.
However, Sandoval's anger got the best of him, and the beleaguered Most Extras singer began shouting about needing a break from filming. "Stop filming me. I don't want a camera in my face[…]I don't feel relaxed; she doesn't either. We have to watch what we say. I'm in a very delicate position right now."
Sandoval is right. As the backlash to his affair continues into its fourth month, even Bravo's fearless leader, Andy Cohen, who has profited immensely from the success of Vanderpump Rules' juiciest storyline in years, has called on fans to back off Sandoval, reminding the ravenous Bravoholics that he's a human being. But, a human being or not, Sandoval's latest outburst revealed the thin line he's been walking all season. We all know that reality television isn't exactly reality, but Vanderpump Rules' aspirational atmosphere makes its characters more relatable than others. "Viewers are able to bind together elements of their own histories and the stars' histories, and their own personalities and the stars' personalities, and place themselves in the aspirational imaginative situations that occur on the show," writes Danielle J. Lindemann, PhD., in True Story: What Reality TV Say About Us. In recognizing the camera, the series breaks that fantasy in the viewer's head, acknowledging that Sandoval isn't an archetype but a person on a television show.
The Scandoval has laid waste to the reality set forth by Vanderpump Rules in the previous nine seasons because it forced us viewers to acknowledge a world outside of the show. Although, as in professional wrestling, where the fixed nature of the fights can only be discussed euphemistically so as to not damage the illusion of entertainment, Vanderpump Rules' position up until the last six months was to present the show as an unfiltered occurrence. There is no production. By turning a producer into a character, they acknowledge that there's more to reality than we've been led to believe.