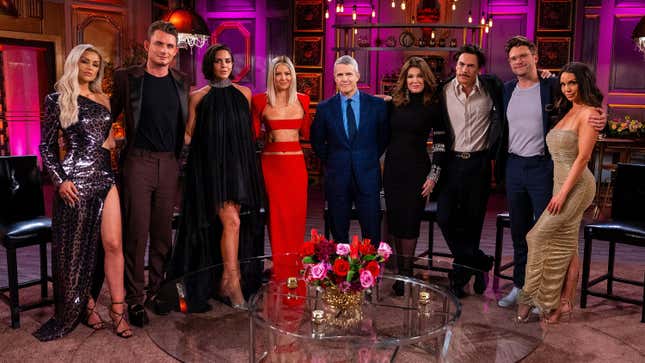 Bravo, bravo, bravo.

Last night, Vanderpump Rules finally delivered the episode everyone had been waiting for since March. At this point, the details of Scandoval—i.e. Tom Sandoval trashing his near-decade-long relationship with Ariana Madix by cheating on her with Raquel Leviss—are burned into the collective memory of Bravoholics and casual observers alike. But finally seeing the cast react to the news was thrilling, and delivered, if not the best episode of the show to date, its strongest showing in years.
How the "Wakanda Forever" stars found a common language
The episode opens two days after the cast found out about Sandoval's affair (the same day Raquel and Scheana Shay visited The A.V. Club and Jezebel in New York). We dive immediately into the much-teased confrontation between Sandoval and Ariana, giving the rest of the episode space to check in on the rest of the cast and gauge their reactions. Most of the episode is one-on-one conversations, with surprising highlights being Sandoval's conversation with Scheana, and Ariana's with Tom Schwartz. These were painful conversations between longtime friends, both ending with the women telling the men in their respective scenes that they were not interested in staying friends.
Ariana expressed a similar sentiment in an interview published by The New York Times this morning. When asked whether she'd be open to filming with Sandoval or Raquel again, she said: "No. I have nothing to say to either of them. Our show is very real and follows a real group of friends, and neither of them are in the group of friends, so, good luck." With the upcoming reunion episodes long in the can, it's perfectly plausible that Ariana will be able to avoid them for a while.
So where exactly does Vanderpump Rules go from here, then? Ariana's pain is real and reasonable—anyone would feel similarly about the infidelity of a life partner. But Tom and Ariana were never just partners. They have always been coworkers, not just at SUR or in their business ventures, but as stars on a reality show. And, lately, they've been doing their jobs extremely well. This series has never seen such public discussion, the cast has never seen this level of fame. It's unlikely that Bravo would easily let anyone leave the show at this point.
There have been other instances in the Bravoverse of cast members refusing to film together—Real Housewives Of New York's Bethenny Frankel and Jill Zarin come to mind, but there have been others. Usually, this untenable situation ends with someone leaving the show. If the cast is icing one person out, it's easy enough to fix. But when a cast is divided—it's not just Sandoval and Raquel, but Schwartz too that no one wants anything to do with—the situation would be more complicated.
Of course, there is a chance that things could thaw, but this is a genuine betrayal that is on a scale beyond a typical reality show. Vanderpump Rules has always stood out because the cast has always believably been real friends. Most of them were friends before the show and bonded further through the experience. There have been cast changes, sure, but the Toms have been the de facto protagonists since the departures of Stassi Schroeder, Kristen Doute (who did return for the finale), and Jax Taylor. Drawing a line in the sand and setting healthy boundaries is pretty antithetical to reality TV.
Unless the show is going to spend a lot of time on its B-list members or develop a spin-off about the Toms, something is going to have to give. The prospect of centering a show on people with so much vitriol for each other is an intriguing one (even if that also has a finite shelf life). But the cast needs to be in the same room, talking, screaming, and throwing fists for that to happen. Unfortunately, reality TV is a painful game, and you can't play—or win—by protecting your peace.