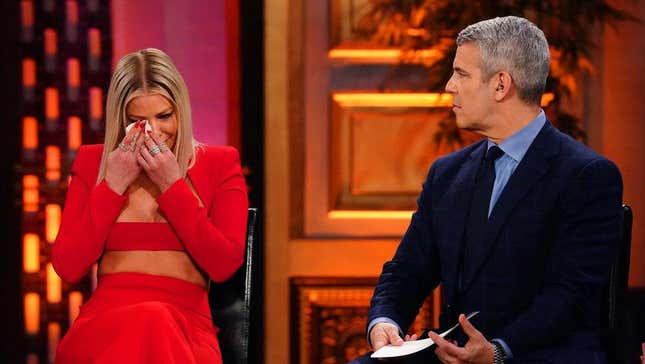 A core part of the appeal of reality TV is that these are real stories that do not, in any way, require the viewer to engage with the fact that they center on real people. That's especially the case for the Bravo universe of reality shows, which tend to fall into the "look at these bad people, aren't you glad you're not one of them even though you kind of relate to them?" genre. You don't want to think about how, when the cameras are off, the Countess Luann or whoever presumably has to buy groceries and live a relatively normal life. You could walk down the street and see her being a human person, which is not true for Logan Roy or whatever, but you can't think about that while watching one of these shows or it all unravels. The realization that it can all be kind of gross and manipulative seeps through.
That's not as true for the people who actually make these shows, apparently. Bravo reality mastermind Andy Cohen was taken aback by the realization that Real Housewives cast member Jen Shah was scamming people, at least partially because he clearly doesn't like having to switch between knowing these cast members as "characters" (which is how he gleefully presents them on Watch What Happens Live) and as real people.
But it's especially true for the producers of Vanderpump Rules, who recently had to figure out how to balance their elation at the show's recent season finale getting series-high ratings and their knowledge of the fact that it only got those ratings because one of the show's central relationships had completely detonated. And the showrunners weren't even remotely good at pretending where they preferred to land on the spectrum between "this is a TV show" and "these are real people."
For Vanderpump Rules, real drama at last
For those lucky few who missed #Scandoval, the short version is this: Vanderpump Rules is about a bunch of awful L.A. people who work/worked at restaurants owned by Lisa Vanderpump of the Real Housewives franchise. One of those people is Tom Sandoval, who cheated on his longtime girlfriend Ariana Madix a while back with her best friend. It happened off-camera, but when the producers found out about it, they retooled the end of the season to follow that storyline and to share new details that hadn't been leaked by gossip blogs or Instagram comments. It was real drama, and if you like that kind of thing, it suddenly made the show more exciting than it has been in years.
Speaking with Variety at a For Your Consideration event, Lisa Vanderpump herself noted that "there's the producer part of you that loves some of the drama," adding, "I would be lying if I didn't say that you love the fact that the story keeps going" before noting that she's also "so emotionally invested in these young people." Fellow producer Alex Baskin also told Variety that he "smiled" when he heard how good the ratings were, but also acknowledged that there's a "human cost, not just a joyous celebration where we can send a note out to the cast and celebrate how well we're doing."
And that all reads extremely phony! For both of them, "this sad thing happened to real people I know" was an afterthought compared to "this story sure is great" and "the ratings are great." And that's okay, more or less. Like Andy Cohen, it's not their job to see these people as people, but it is a bit chilling to see that put on display so clearly. Frankly, it would feel less trashy if they just said "the ratings are good, the storyline is good" and didn't try to patronize anyone by putting on this "oh, but we we care about them a lot" charade.
Ariana Madix: "I completely understand"
Another interesting perspective on this comes from Madix herself, who—when The Los Angeles Times asked her about fans with an "internal conflict" struggling with their desire to hear about the scandal and their knowledge that she's a real human—responded, "I understand it." She says she's the same way with reality shows that she watches, and she just wishes viewers would stop theorizing that it's all some big scripted drama that everyone knew was happening. She seems okay with the (pardon the word) reality of it, but her account of the production's reaction to the news of the affair is pretty telling in the L.A. Times piece:
Our showrunner called me and he was like, "What the hell are you talking about? Are you joking?" We talked on the phone for a long time. And at the end of the conversation, he was like, "I don't know when we could do this, but I do feel like we need to capture this moment." And I was like, "I don't love that. But I completely understand. And you just let me know."
Just that little "we need to capture this moment" to "I don't love that" interaction says so much about what these shows are and what they do to the people who are on them. Madix goes on to say that she was happy when the story started to leak and she was glad to have it covered on the show because she wanted the public to know what Sandoval did, but then she's not the one at a party talking about how happy she is that the ratings are up.
And, to be clear, there's nothing wrong with enjoying Vanderpump Rules. People like Madix are obviously willing participants, and if these are shows are going to make people like Tom Sandoval vaguely famous, then it's only right and fair that the show gets a chance to cut them down. Let's all just agree to respect the intelligence of everyone on the planet and not bother with the faux-empathy when someone's life getting destroyed makes for good ratings.